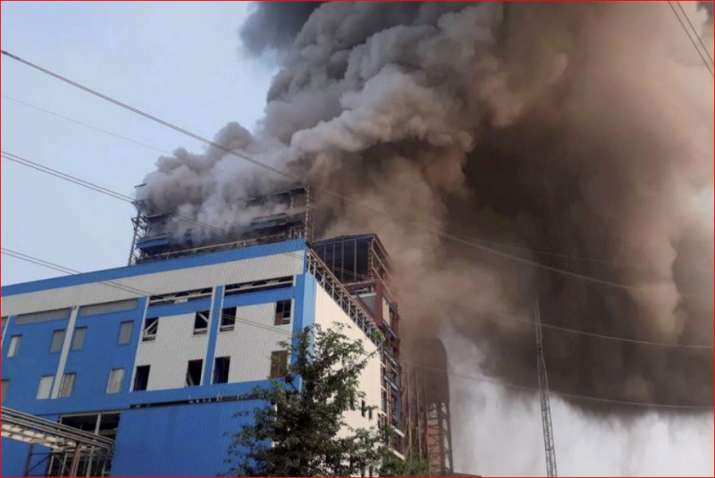 In a heart wrenching incident, 32 labourers were killed at Unchahar plant of NTPC in Uttar Pradesh on Wednesday after one of the boilers burst in the afternoon. 
India TV crew visited the accident site to understand what actually led to the explosion resulting in loss of 32 innocent lives.
On Wednesday, there was a huge explosion in the 90-feet high boiler between 3-4pm which changed the scene at the site within seconds. The fireballs started flowing everywhere in the plant and many labourers working there were burnt alive.
In Pics: 30 killed in NTPC power plant blast in Uttar Pradesh's Unjahar
The actual reason for the blast will be known only after the enquiry is completed. However, according to the preliminary information, the explosion took place after sudden burst in the steam pipe of the boiler. After that, boiling water and burning ashes fell on the labourers that led to their immediate death.
The plant had reportedly developed some snag before the accident and some engineers were working to fix the problem when this accident took place. 
However, the explosion occurred before the problem could be fixed. The labourers pointed out that the tragedy could have been avoided, had the plant been closed when the repair work was going on.
"The accident took place at around 3.30pm.  I was working at the height of 75 feet. I heard  an explosion downside after  which hot wind started flowing. After that the boiling water started pouring down. Nobody was able to understand what was happening there. The boiler was shaking as if an earthquake had taken place," one of the eye witnesses told India TV.
The NTPC, however, has now shut down this plant for the time being. 
Here is India TV's exclusive video report from the Ground Zero: