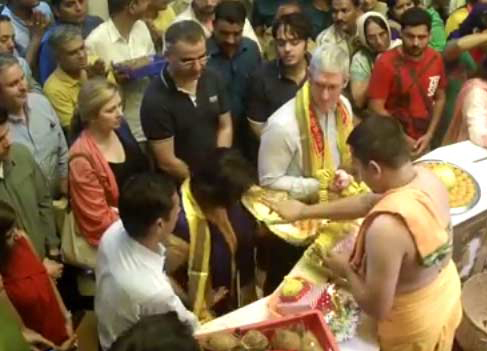 Mumbai: What is the first thing that crosses your mind when you think of Apple CEO Tim Cook's India visit? Film aficionados would say it was his party with Shah Rukh Khan, political enthusiasts may prefer to remember his meeting with Prime Minister Narendra Modi. However, the most striking visual was that of a confused Cook, hands folded, performing the aarti at Mumbai's Siddhivinayak Temple. 
Lord Ganesha is considered auspicious for the belief that his blessings could make small beginnings successful. If the Apple CEO had an auspicious beginning for Apple in India on his mind – after all he does have grand plans for India -- he struck all the right chords. However, a new facility extended to devotees now perhaps missed Cook by a few months. Had it not, Tim Cook may have gone ahead and made the cash-rich temple trust even richer.
Here's how.
In a unique move that offers devotees an additional avenue of donation other than cash and gold, Mumbai's famed Shree Siddhivinayak Ganapati temple will now offer them an electronic platform that they can use to offer shares of listed companies.
The temple, frequented by the rich and powerful among other devotees, has opened a demat account to help followers donate equity shares and other securities. 
One share of Apple stock could fetch over 100 US dollars or Rs 6700. 
The CDSL demat account has been opened with SBICAP Securities Ltd in the name of Shree Siddhivinayak Ganapati Temple Trust (Prabhadevi) Mumbai, which manages the famous Siddhivinayak Temple.
"Devotees across the world can now donate to the temple in the form of shares through this facility. This will help in increasing revenue of the temple which will be further used for social cause," Narendra Murari Rane, chairman, Shree Siddhivinayak Ganapati Temple Trust said.
SBICAP Securities said that devotees will initially be able to offer shares through the demat account set up for the temple. This initiative will later be extended to bonds, mutual funds and gold exchange traded funds.
"The account has been set up to enable devotees to deposit shares. The deposited shares will then be converted into cash within a short period of time by the temple," said Mani Palvesan, MD, SBICAP Securities. 
The temple figures among the wealthiest in the country with huge cash and gold holdings donated by the devotees. It is visited by lakhs of devotees including rich and powerful every year. 
"The devotees of Lord Siddhivinayak can now avail the benefit and donate actively traded shares and securities," CDSL, a leading securities depository, said in a statement today. 
Central Depository Service Limited (CDSL) Managing Director and CEO P S Reddy hoped that the devotees will take advantage of the novel facility being offered for the first time by a Temple Trust in Maharashtra State to them.
The initiative by Siddhivinayak Temple to accept shares as donation from devotees apart from the traditional offering of cash and gold is not new in the country. 
Last year, Tirumala Tirupati Devasthanams had opened a demat account, which is reportedly receiving encouraging response from devotees.