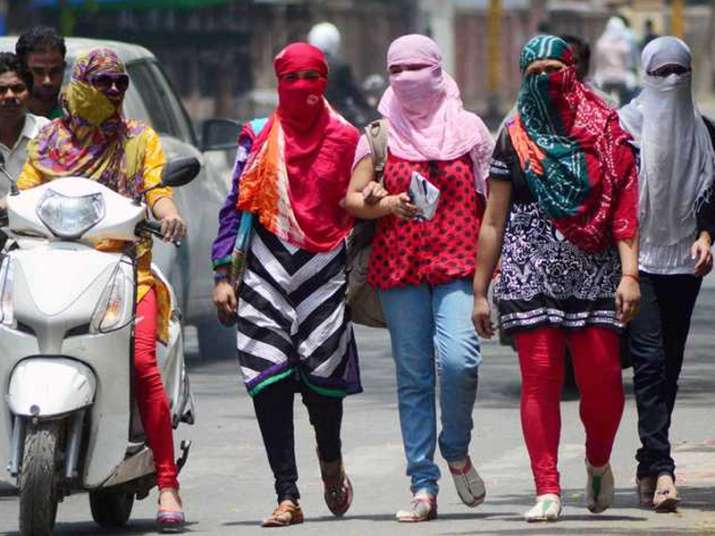 Almost the entire north India plains is in the grip of severe heatwave condition which has thrown normal life out of gear as the maximum temperature reached nearly 49 degrees Celsius in the desert state of Rajasthan.
In the national capital, people battled scorching sun for another day and the maximum temperature settled at 44.4 degrees Celsius, four notches above the season's average, weather officials said.
The Met office in Delhi has forecast partly cloudy skies with likelihood of very light rain and thundershowers toward evening and night tomorrow. 
A MeT official in Rajasthan said at least five places recorded their maximum temperatures in excess of 45 degrees Celsius -- Sriganganagar being one of them where the mercury touched 48.7-degree C mark.
Other places where the mercury went past 45 degrees Celsius are Churu (47.6) , Bikaner (46.2), Pilani (45.6), Kota (45.5). Jaisalmer recorded exactly 45 degrees Celsius, while Jaipur's maximum was 44.9 degrees Celsius, the official said.
Even as the northern parts of the country battled dry and hot weather conditions, the southwest monsoon hit south Indian state of Kerala today, three days before its expected arrival.
Dust and thunder storms accompanied by rains occurred at isolated places over eastern Uttar Pradesh, but weather remained dry over western parts of the state today, the weather office said.
Day temperature was above normal in Allahabad, Moradabad, Jhansi, Gorakhpur, Varanasi and Kanpur divisions, with Orai recording the highest maximum temperature of 47 degrees Celsius.
Rain and thunderstorm accompanied by gusty winds or sqall, with wind speed reaching 50-70 kmph, were very likely at isolated places in the state over the next couple of days, MeT officials said.
Last night, thunderstorm and lightning claimed 15 lives and injured 10 people in various parts of Uttar Pradesh, a senior government official said today.
In Punjab and Haryana today intense heatwave condition swept most parts of the two states. Haryana's Narnaul was the hottest place in the two states at 46.7 degrees Celsius, six notches above normal.
Among other places in Haryana, scorching heat condition prevailed in Hisar and Bhiwani and their maximums were 46.6 and 46.4 degrees Celsius respectively, up to four notches above normal.
In Punjab, Amritsar's maximum was 44.2 deg C, up three notches against normal limits.
According to a MeT forecast, heatwave conditions are likely to prevail at isolated places in Punjab and Haryana during next 24 hours. Jammu witnessed further intensification in heatwave condition as the city recorded its hottest day of the season with mercury touching 43.5 degrees Celsius.
A spokesperson for the MeT department said, today was the hottest day in Jammu for the month of May for the past three years.
The city has recorded the highest day temperature of 43.2 degrees Celsius on May 20, 2016. It was 41.7 degrees Celsius on May 27 last year, the maximum for the year.
The Met department said severe heatwave conditions prevailed at isolated places over East Madhya Pradesh and heat wave conditions 
occurred in many parts of Madhya Pradesh and Vidarbha.