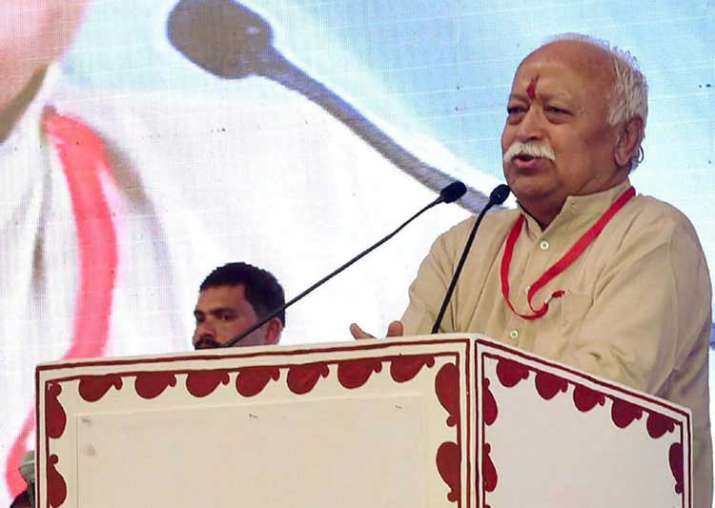 Rashtriya Swayamsevak Sangh (RSS) chief Mohan Bhagwat on Saturday said that no one has the right to "measure" or "pass judgement" about anyone's patriotism.
"No one has the right to judge others on the basis of patriotism. Even those who may feel they are running the show in this country, cannot measure anyone else's patriotism and pass judgements," Bhagwat said while speaking at a book launch. 
He added that patriotism doesn't have existence on own. "For it may mortally perish or just not exist. Patriotism does not have an ego of own," he said. 
The RSS chief, who recently said that every person born in Hindustan is a Hindu, was speaking at the launch of journalist Vijay Manohar Tiwari's book "Bharat ki khoj mein mere paanch saal" (My five years of discovering India).
Two days ago, Bhagwat had said that all the people who live in India and have respect for its traditions are Hindus and all the Hindus should remain alert for the honour of the country.
"Whoever lives in Hindustan and has respect for its traditions, are all Hindus. Muslims may have different way of performing prayers, but their nationality is Hindu. All Hindus are accountable for Hindustan," Bhagwat said while addressing 'Hindu Sammelan' here last week. 
"Everyone born in the country is a Hindu -- of these some are idol-worshipers and some are not. Even Muslims are Hindus by nationality, they are Muslims by faith only," he said.
The RSS chief is on an eight-day visit to Madhya Pradesh. On Tuesday, he met with Sangh officials in Bhopal and on Wednesday, he visited Betul jail to pay a tribute to Sangh ideologue Madhav Sadashiv Golwalkar.
Bhagwat also participated in the Silver Jubilee celebrations of the Bhausaab Bhuskute Samiti in Bankheri area of Hoshangabad on Thursday. He will address a labour rally in the capital city on Friday.