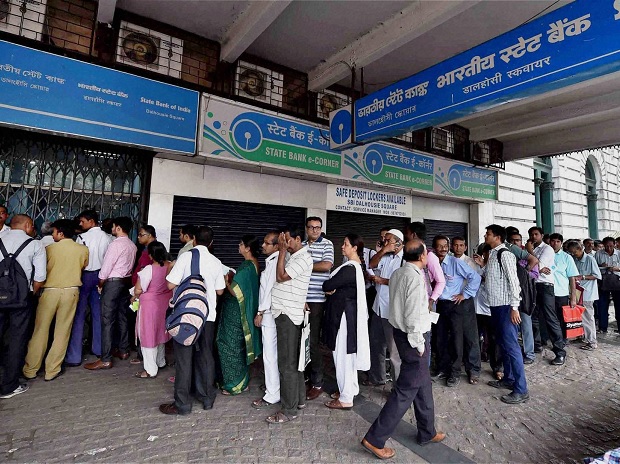 Banks and ATMs across the country continue to witness unprecedented rush as cash-starved people queuing up since early Sunday morning following PM Modi's announcement of scrapping Rs 500 and Rs 1,000 notes from November 8 midnight.
Due to bank closure tomorrow in some parts of the country, distressed people are thronging branches since most of the ATMs are out of cash. 
Much to people's dismay, only 60 per cent of ATMs got valid currency feed five days after Prime Minister Narendra Modi announced surprise demonetisation of two higher value currency notes. Even these 1.2 lakh ATMs (out of total 2 lakh) are running out of cash in few hours, leaving people frustrated. 
#DeMonetisation : People stand in long queues outside banks and ATMs in Hyderabad. pic.twitter.com/6cjvQxKqbb

— ANI (@ANI) November 13, 2016
Accepting that the common man is being inconvenienced, Finance Minister Arun Jaitley yesterday said it may still take  up to three weeks for ATMs to start unctioning normally. 
UP: Long queues outside ATMs in Kanpur #DeMonetisation pic.twitter.com/GWBCoYG4ep

— ANI UP (@ANINewsUP) November 13, 2016
"ATMs could not have been calibrated (before the demonetisation announcement) because of secrecy issue. 
Thousands of people are involved in recalibration exercise (and) secrecy could not have been maintained. Recalibration takes at least 2-3 weeks," Jaitley had said. 
Long queue outside an SBI ATM in Mumbai #DeMonetisation pic.twitter.com/yMMDQ9RZFu

— ANI (@ANI) November 13, 2016
According to a senior official at Canara Bank branch in central Delhi, today is testing time for bankers. To meet the heavy rush, more counters have been opened and middle management, including AGMs and DGMs, are dispensing cash at many branches. 
Subah 4 baje se khade hain kya karien, khaane ke liye bhi paise nahi hain: Local outside Lajpat Nagar ATM #Delhi #DeMonetisation pic.twitter.com/dnFdvVshym

— ANI (@ANI) November 13, 2016
Reports of chaos and scuffles at bank branches and ATMs streamed in from different parts of the country yesterday. There were also reports of heated exchanges between hassled customers and overworked bank officials.
(With PTI inputs)