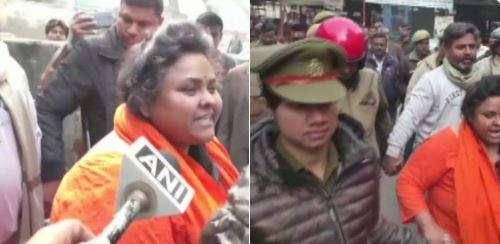 Hindu Mahasabha leader Pooja Pandey and her husband Ashok Pandey were produced before a local court in Aligarh on Wednesday. The couple was arrested from Tappal for recreating Mahatma Gandhi's assassination. 
However, Pooja Pandey showed no sign of remorse.
"No regrets. We have not committed any crime. We have used our Constitutional right," ANI quoted Pooja as saying.
Recently, five people were arrested for allegedly burning an effigy of Mahatma Gandhi, the video of which went viral on social media. The arrested persons are accused of firing at the effigy of the father of the nation and setting it on fire.
In the video, the accused were also seen praising Nathu Ram Godse, killer of Gandhi. The police had registered a case.