Follow us on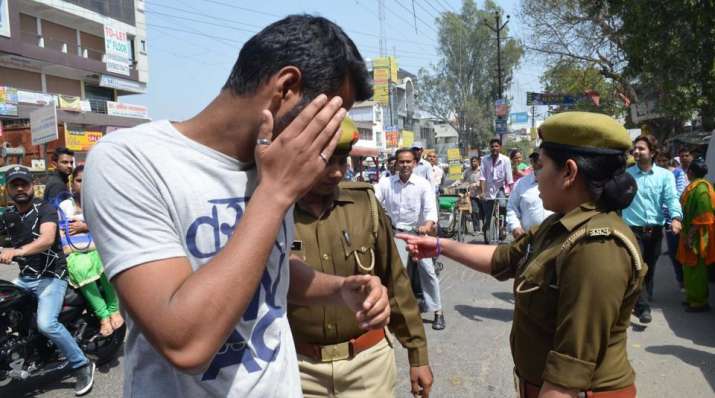 Following allegations of cops in Uttar Pradesh resorting to 'moral policing' in the name of 'anti-Romeo' drive initiated by the Yogi Adityanath-led government, the state police chief on Friday issued a letter with fresh guidelines to the force involved in the exercise. 
The ground rules set by the Director General of Police Javeed Ahmed include "no hair shaving, blackening of face or murga position" during such drives. 
The guidelines further specified that there should be no discrimination on the basis of caste, creed or faith. 
"A lot of women policemen in plainclothes are posted to help the anti-Romeo squads - they should give the correct information about what is objectionable. Treat all those who complain about this at station equally and not on the basis of their identity," read the letter. 
DGP Ahmed further added that there should be no action on those sitting at coffee shops or in parks. "Couples sitting in public places should not be asked for IDs, questioned, frisked or humiliated," said the letter. 
Essentially, there should be no private individual or self-appointed groups going around rounding up young couples or men sitting alone. 
"The squads will be screened and assessed by officials and briefed by senior policemen before set out each day," specified DGP Ahmed in the letter. 
Meanwhile, the Allahabad High Court, on Thursday, gave its approval to the constitution of 'anti-Romeo' squads by the UP police to check harassment of women in the state.
Refusing to intervene in the state government's action, the High Court said, "We are unable to gather any lawful or otherwise constitutional defect in the attempt made by the state government and its authorities in proceeding to form the squads for the purpose of such policing". 
The court also refused to accept that the initiative of the state government amounted to "moral policing". The bench said that in fact it was "preventive policing". 
The Lucknow bench, however, directed the Uttar Pradesh government to ensure that guidelines are followed by anti-Romeo squads and action is taken as per the law.  
Last week, three policemen were suspended for detaining a young couple at a Ghaziabad park. 
The couple was reportedly taken to a police station where no woman police personnel was present, which is mandatory to take a woman into custody. 
Annoyed over such incidents, Yogi Adityanath had warned the senior officials that strict action would be taken if such cases are not contained. He has also warned police not to harass consenting young men and women found together.