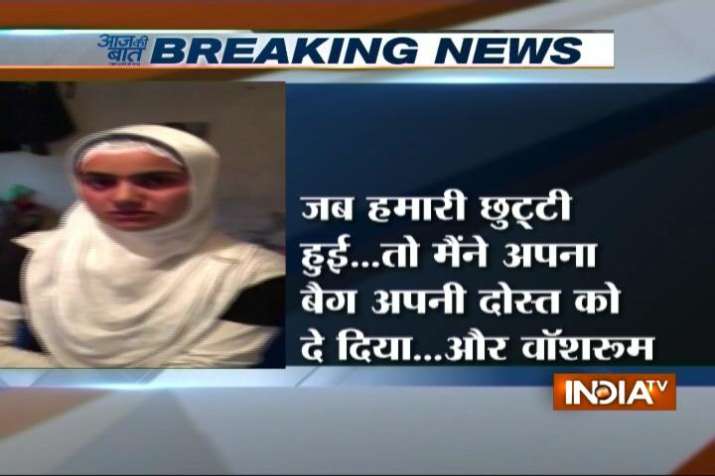 Handwara (Jammu & Kashmir): The girl involved in the alleged molestation bid by an army personnel in Jammu and Kashmir's Handwara district has come out in the media and said that the incident was that of robbery and that no security personnel was involved in the act.
Handwara witnessed angry protests as two youths were allegedly killed in firing by security personnel in following protests over the alleged molestation bid by an Army jawan today. However, the statement by the girl goes contrary to the rumours leading to ugly clashes in the district.
The two youths, identified as Nayeem Ahmad Bhat and Mohammad Iqbal, sustained injuries after forces opened firing on unruly protesters who even tried to torch a soldier's bunker. Iqbal succumbed to his injuries at Handwara hospital while Nayeem succumbed later on.
The girl in question surfaced before the media later in the evening and clarified that there was no attempt to molest her. In fact, it was a robbery attempt and that no security personnel were involved in the act.
"I went to the washroom and handed my bag to a friend. When I came back, a man tried to snatch my bag from me. When I protested, he slapped me. I started shouting….the police came and asked me to come to the police station," the girl, visibly hassled, told the media narrating the incident.
The protests and the unfortunate killing of the two youngsters spurred huge protests. Hardline Kashmiri leaders condemned the incident as a deliberate use of disproportionate force against protesters and rights activists by the Army. The accusation has been denied outright  by the Army.
"Army deeply regrets the Handwara incident and loss of life. The matter will be investigated and anybody found guilty will be dealt with as per the law," said a spokesperson of army's Chinar Corp based in Srinagar.    
Meanwhile, Hurriyat leader Syed Ali Shah Geelani has called for a state wide bandh over the killing of the two youth, saying state-sponsored terrorism was at its peak.  
Media reports cited a health official at Handwara hospital confirming the death of both Iqbal and Nayeem said "Iqbal  was brought dead while as Nayeem succumbed later."
According to the police, protests erupted when news of a molestation attempt by an Army personnel surfaced. The gathered crowds tried to ransack the bunker and set it on fire. The forces retalliated and that is when the two youths got injured and later succembed to injuries, an official said.  
The Army's says that the matter is being investigated and that the guilty, if found, will be dealt with as per law.