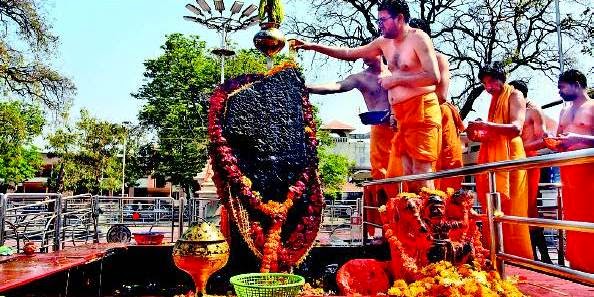 Mumbai: The Bombay High Court today held that there was no law that could prevent women from equal access to places of worship and said that women could not be barred from entering the Shani Shinganapur temple.
The court was hearing a public interest litigation filed by women activists Vidya Bal and Nirmala Varta seeking the court's direction against the practice prohibiting women inside the core shrine areas of the Shani Shingnapur temple in the Ahmednagar district of Maharashtra.
"There's no law which prevents women from entering temples. Women should have equal access to places of worship," the court observed while hearing the petition. The petition has claimed that such a prohibition encourages gender disparity.
Holding the prohibition as arbitrary, illegal and violative of the fundamental rights of a citizen, the PIL sought the court's directives to the state government and temple authorities to ensure that the prohibition is set aside and women are given entry not just inside the temple but also in the sanctum sanctorum.
For over a century, women were barred entry into the temple, until 2011. Mass awareness campaigns were carried out to bring about this change. However, women were still prohibited from the core shrine area.
Today, women are not permitted to climb up the 'chauthara' (platform) where the rock idol of Lord Shani is installed.
The issue sprung to prominence after a woman stepped onto to the unlocked platform last year to offer prayers. This was followed by a 'purification' process by villagers, angering women activists and several sections of the society.
The issue has stayed in news since then and has even prompted questions on similar practices at other temples as well. On January 26, around 400 women activists, who tried to head for Shani Shingnapur temple in Ahmednagar district defying prohibitory orders to worship the deity, were detained about 70km from the temple and later released.
(With agencies)