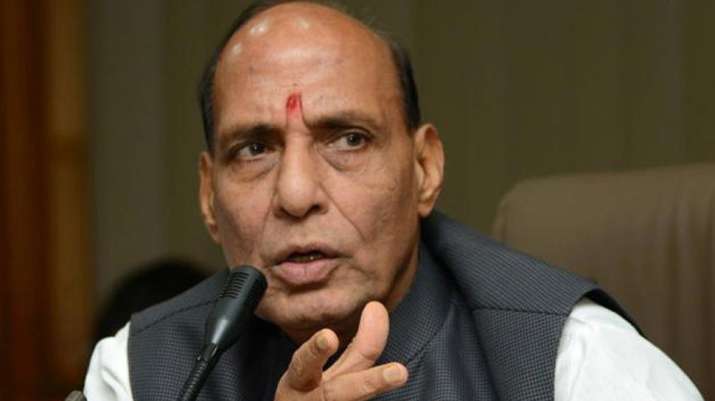 Union Home Minister Rajnath Singh on Saturday made it very clear that no Indian national would be excluded from the National Register of Citizens (NRC).
He pointed out that the NRC was necessary to identify Indian citizens and weed out illegal immigrants.
The home minister made these remarks while addressing the Northeast Students' Festival in New Delhi that was organised to welcome new students from the region to Delhi.
"I want to say that no genuine Indian will be excluded from the NRC," he said at the event organised by 'My Home India', an NGO founded by Bharatiya Janata Party (BJP) leader Sunil Deodhar. 
"It is absolutely necessary to know who are Indians and who are foreigners," Singh added,
Deodhar was the BJP in-charge in Prime Minister Narendra Modi's constituency Varanasi during 2014 Lok Sabha elections and a key architect of BJP's victory in last assembly elections in Tripura.
The update of NRC, the massive Supreme Court-monitored exercise to identify genuine Indian nationals living in Assam excluded over 40 lakh people from the draft list published on July 30, creating a huge political controversy.  
The exercise aimed at identifying illegal immigrants in the state that borders Bangladesh was carried out in Assam following a decision in 2005 after a series of meetings between the central and state governments and the influential All Assam Students' Union (AASU).
 
Assam, which faced influx of people from Bangladesh since the early 20th century, is the only state having an NRC, first prepared in 1951. 
The current exercise started in 2005 under the then Congress regime got a major push only after the BJP came to power in the state with illegal immigration from Bangladesh as a poll plank. 
When the NRC was first prepared in Assam way back in 1951, the state had 80 lakh citizens then. 
As per 2011 census, Assam's total population is over 3.11 crore. The process of identification of illegal immigrants in Assam has been widely debated and become a contentious issue in the state's politics. 
A six-year agitation demanding identification and deportation of illegal immigrants was launched by the AASU in 1979.
 
It culminated with the signing of the Assam Accord on August 15, 1985, in the presence of then Prime Minister Rajiv Gandhi.
(With PTI inputs)