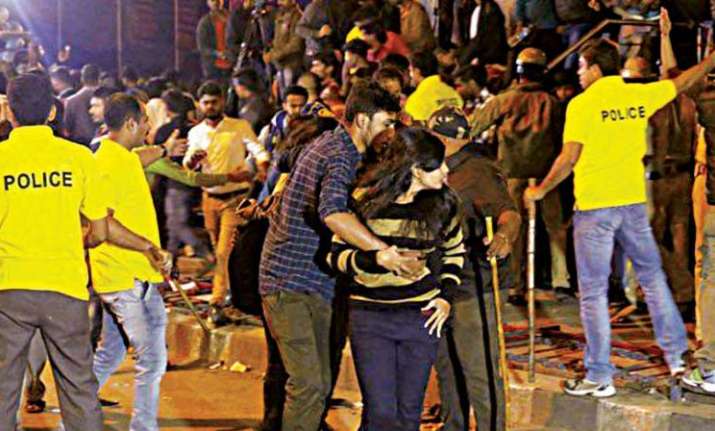 Four days after the pandemonium over the alleged incidents of mass molestation during New Year's Eve celebrations in Bengaluru, the hi-tech city's police commissioner on Thursday said that police did not find evidence of "any kind of molestation" in the footage from 60-odd CCTV cameras. 
Police Commissioner Praveen Sood said that the police had gone through hours of CCTV footage from the night in Bengaluru but could not find any evidence to back the reports of mass molestation. 
 

"On January 2, one of the newspapers raised this issue with still photographs, blurred photographs. We had to take it very seriously. We could not ignore it. At the same time, we cannot imagine things. We started looking into the whole video footage from approximately 55 to 60 cameras. These videos were also sourced by the media from the police. We could not find any kind of molestation," Sood was quoted by The Indian Express as saying. 

 
He further added that four separate cases had been registered on the basis of media reports and four men had been arrested on charges of sexually assaulting a woman from the Northeast – the incident that had been recorded in a chilling CCTV footage that went viral on Wednesday. 
On January 2, media reports had featured testimony and photos of victims cowering from their attackers or fleeing for safety.
However, police said that the images of women crying on shoulders of policewomen and friends were not linked to incidents of molestation, but reactions to stampede when the police resorted to lathicharge to control the crowd. 
On Wednesday, the police had registered an FIR into the matter after claiming to have found "credible" evidence of molestation. 
As the incidents drew widespread outrage with no action from the police, Praveen Sood, through a series of tweets, had said that his team was working on the case silently.
While Sood confirmed about finding "credible" evidence in the incident, a CCTV footage emerged as a chilling testimony to the accounts of mass molestation in which two men on a scooter were seen blocking a young woman's path, getting off and then groping her. 
Eyewitness accounts had suggested that women were molested and groped and lewd remarks were also passed by miscreants late night on December 31 in the posh area even as it was claimed that 1,500 police personnel had been deployed to control the crowds.