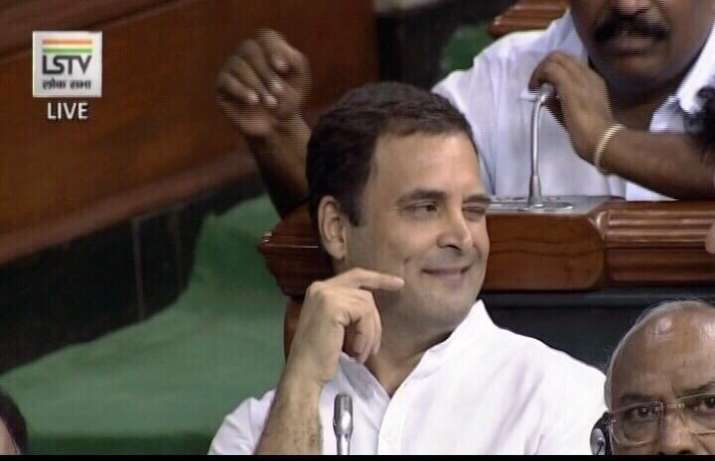 Congress President Rahul Gandhi on Friday made a speech in the Parliament during the no-confidence motion debate in Lok Sabha. He said that he is thankful to BJP for teaching him what it means to be a Congressman, an Indian and a Hindu.
In an unprecedented gesture, Rahul even went on to hug the prime minister during his speech and said that he had no hatred for Modi even if his opponents called him pappu or by other names. 
Here is what Rahul Gandhi said during No-confidence motion debate: 
# You can abuse me, you can call me Pappu, but I don't have a speck of hatred against you. I will take out this hatred out of you and turn it into love
# I am thankful to PM Modi, BJP, RSS because they taught me the meaning of Congress and meaning of being a Hindu
# When your minister talks of changing the constitution then its an attack on Ambedkar ji and an attack on India
# During the adjournment break, not only opposition MPs but also your(NDA) MPs congratulated me and said you spoke very well
# For the 1st time in the history of India, women are not being protected. Wherever you see, Dalit, Adivasis, minorities are being thrashed, killed, but Prime Minister can't speak a word. Are these minorities, Adivasis, women not a part of India
# I can see him (PM Modi )smiling. But there's a touch of nervousness in the gentleman and he is looking away from me. I can understand that. He cannot look into my eyes, I can see that because Prime Minister has not been truthful.
# Defence Minister said there is secrecy pact with France on Rafale deal. I personally met President of France and asked him if any such pact existed, he clearly said there is no pact.
# During UPA rule, cost of one jet was Rs. 520 crore. PM Narendra Modi went to France and don't know what happened there, but after that cost of 1 jet surged to Rs. 1600 crore.
# You (TDP) are the victim of a 21st-century political weapon and you are not the only one. The political weapon is called the "jumla-strike."