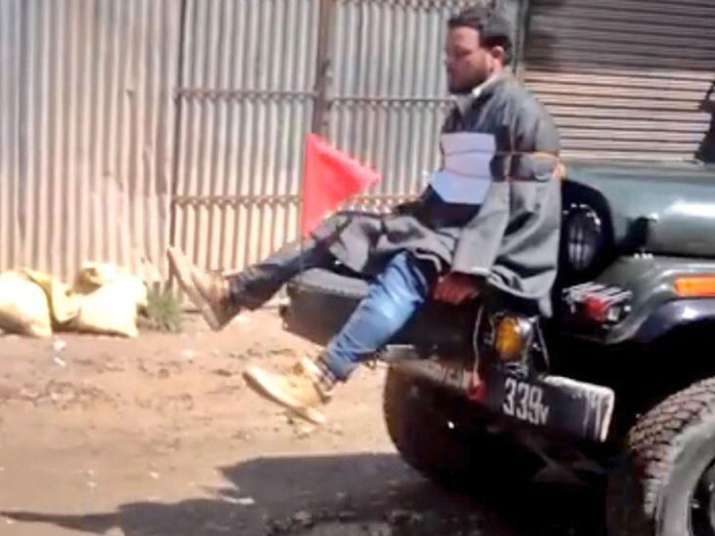 The Indian Army on Monday denied that the court of inquiry (COI) had given a clean chit to an officer who had tied a local youth in front of a vehicle last month to avoid attack from stone-pelters.
In the wake of media reports saying that the COI had exonerated and even appreciated Major Nitin Gogoi for his action on April 9, Defence Ministry spokesman in Srinagar Col Rajesh Kalia said that proceedings were still on.
"The Court of Inquiry concerned with the incident wherein a civilian was tied to an Army jeep is still incomplete.
"Reports in some sections of the media of the army Major being given a clean chit are speculative," he said.
An army spokesman in New Delhi said: "The court of inquiry has not given its report yet. It is inappropriate to speculate on the findings of the inquiry." 
Earlier reports had said that Gogoi, who had reportedly tied a youth to the bonnet of a jeep as a 'human shield' on April 9 to avoid attack from stone pelters in Badgam, had been given a clean chit and the COI had even appreciated his attempt to avoid casualties.
A video of a man tied on an army vehicle's bonnet, shot on April 9 during Srinagar by-polls, which saw a dismal 7.13 percent turnout among widespread violence and later posted on social media, had led to an uproar. An FIR was registered by the Jammu and Kashmir Police against the security forces.
On April 15, Army constituted a court of inquiry in the incident.