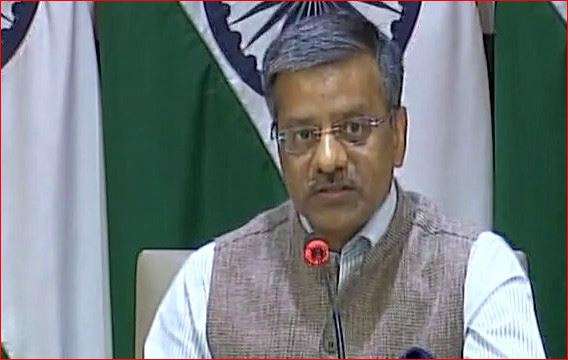 Amid reports in Pakistani media that Islamabad was mulling over allowing Kulbhushan Jadhav's mother to meet her son, India on Thursday said that it has no official information in this regard.
External Affairs Ministry Spokesperson Gopal Baglay told media person that there has been no change in Pakistan's position on either providing consular access to Kulbhushan Jadhav, a retired Indian Navy officer, or granting visa to his mother, Avanitika Jadhav, so that she could meet her son. 
Baglay added that  the case was now before the International Court of Justice and India was following the September 13 timeline to give its submission. 
Pakistan has so far dismissed 16 request by India for consular access to Jadhav. 
India had moved the ICJ against Jadhav's death penalty by a Pakistan military court. The ICJ had on May 18 restrained Pakistan from executing the death sentence.
  
While Pakistan claims that its security forces arrested Jadhav from its restive Balochistan province on March 3, 2016 after he reportedly entered from Iran, India maintains that the Indian national was kidnapped from Iran where he had legitimate business interests.
Doklam issue with China will be solved diplomatically: India 
Notwithstanding China's reservations, India on Thursday maintained that the current border stand-off in Doklam would be resolved diplomatically like it had solved all its disputes with Beijing in the past using diplomatic channels.
External Affairs Ministry spokesperson Gopal Baglay said diplomatic channels were "available" to the two countries that would continue to be used.
He referred to a "conversation" between Prime Minister Narendra Modi and Chinese President Xi Jinping on the sidelines of the G20 Summit in Hamburg last week "where they spoke over a range of issues".
"As far as the Doklam issue is concerned, you know we have diplomatic channels. Embassies are there in both the countries and those channels will continue to be used," Baglay said in his weekly media briefing.
China and India are locked in a standoff in the Doklam area in Sikkim sector near the Bhutan tri-junction for over three weeks after the Chinese army attempted to build a road in the disputed narrow stretch of land.
Doklam is the Indian name for the region which China refers to as Donglong.
Asked about the provocative statements from China and the Chinese media over the border issue, the spokesperson said the government had "clearly laid out" its position and approach to deal with the matter.
"We have referred to how the two governments have been engaged in the last few years in addressing this issue, the boundary matter and the tri-junction. We have also mentioned understandings between the two countries," he said.
Baglay referred to Foreign Secretary S. Jaishankar's speech in Singapore earlier this week when he said India and China have handled their border issues in the past and there was no reason why they would not be able to deal with it this time.
"He (Jaishankar) referred to the understanding between the two leaders (Modi and Xi) which essentially underlines the approach we are following in this regard. So, we are very much seized of the matter, we are very much sure of the approach that is being taken and that is where it stands," the spokesperson said.
On Wednesday, Chinese Foreign Office spokesman Geng Shuang dismissed Jaishankar's remarks saying the "trespass" by the Indian troops in Doklam was different from the "frictions in the undefined sections of the boundary" between India and China.
Asked if Modi and Xi particularly talked about the Doklam issue, Baglay refused a direct reply saying: "I would leave it to your imagination and common sense to summarise what can be covered in the range of issues."
"We have accumulated a lot of experience on both sides in addressing a number of matters. You know it and it has been said. Not only by us but by others also," he said.
He pointed out that the result of this approach has been "the tranquility" along the 3,488-km-long India-China border from Jammu and Kashmir to Arunachal Pradesh. Some 220 km of the border falls in Sikkim.
Pressed further if New Delhi and Beijing were talking, and through which channel since China has ruled out talks until Indian troops vacate Doklam, Baglay said his comments needed to be taken in "totality".
"The matter we are dealing with is a serious matter for a number of reasons. We have outlined our position, we have outlined our approach in this regard. I said a range of issues was discussed in conversation between Prime Minister Modi and President Xi. Then I said diplomatic channels are available. I don't think I would like to comment on what is happening or what is being done in this regard. I request you to see in totality what I said."
Asked if National Security Advisor Ajit Doval was visiting China this month, Baglay denied having any information in this regard.
When a TV journalist asked what were the issues discussed between Modi and Xi during their "five minute meeting" in Hamburg, Baglay said "it is not for me to cover the range of issues they discussed".
To China denying any meeting between the two leaders, Baglay said: "I would only refer you to the information that we put out the same afternoon after the meeting. There was a picture that we had tweeted, there was a brief text that we had tweeted..."
India snubs China's offer of mediation on Kashmir 
Rebuffing China's offer, India on Thursday ruled out any third party mediation on Kashmir about which it is ready to talk to Pakistan at a bilateral level as terrorism is at the core of the problem between the two countries.
Reacting to the Chinese Foreign Office spokesperson's remarks that China was ready to mediate between India and Pakistan over Kashmir, External Affairs Ministry spokesperson Gopal Baglay said cross-border terrorism was at the heart of the issues between New Delhi and Islamabad.
"Our stand is absolutely clear. You are all aware of the fact that at the heart of the matter is the issue of terrorism perpetrated on India, including on the people of the state of Jammu and Kashmir. So, the matter is that cross-border terrorism in our region emanating from a particular force is threatening the peace and stability in not only India but other neighbours and also the entire region and the world," Baglay said in his weekly media briefing.
"As far as the Kashmir issue is concerned, you know that the government's position has been very consistent and clear. We are ready, we have been ready to have dialogue with Pakistan... That position of addressing all the issues with Pakistan, including Jammu and Kashmir, in a bilateral framework has not changed."
The Chinese foreign ministry on Wednesday offered to play a "constructive role" in improving India-Pakistan ties over Kashmir where the "situation has attracted the attention of the international community".
Baglay also rubbished Pakistan media reports hinting at use of chemical weapons in Kashmir. 
"The claims are completely baseless and incorrect. India is against the use of chemical weapons anywhere in the world."
He said it was "quite surprising" to see what the government of Pakistan was talking about and reading from the terror script of the Lashkar-e-Taiba.
"They have taken a leaf out of the book of Lashkar-e-Taiba on those ridiculous comments. The government is taking its cue from an internationally banned terrorist organisation," he added.
(With agency inputs)