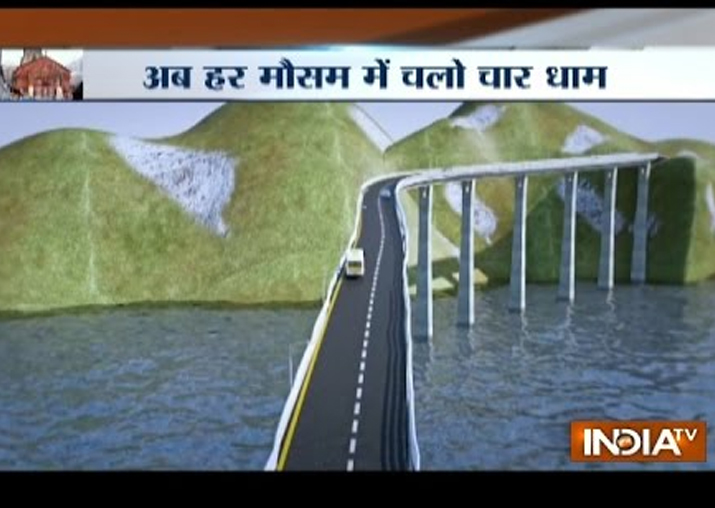 The National Green Tribunal (NGT) today cleared all decks for the construction of the Centre's ambitious Chardham highway project that aims to provide all-weather connectivity to four pilgrimage towns of Uttarakhand. The green court's approval was came after it disposed of a plea that alleged the road widening work was being carried out in violation of the green laws. 
Under this project, the four pilgrimage towns -- Kedarnath, Badrinath, Yamunotri and Gangotri, will be connected by the 900-km long highway.
The Uttarakhand government and Border Roads Organisation (BRO) assured a bench headed by NGT Chairperson Justice Swatanter Kumar that they would carry out the project after due compliance with the laws, especially the Bhagirathi eco-sensitive zone notification of December 18, 2012. They also told the green panel that during the project's implementation, they would ensure that no muck is thrown either into the river or in the forest areas down the hill. 
"In view of the statement made, nothing survives in this application and the same is disposed of, without any order as to cost. We make it clear that in the event (of) violation of any law or breach of the statement as made before the Tribunal, the Applicant would have the right to approach the Tribunal, in accordance with law," the bench observed. 
Earlier, the BRO had told the NGT that the Chardham highway project connecting the four Uttarakhand towns was extremely important from a strategic point of view also, as it was close to the China border. It had said that the improvement of the national highway will also facilitate better connection with India-China border roads. However, all possible precautions will be taken to ensure that stability of mountain does not get disturbed in the process, it had added. 
The submissions were made in an affidavit filed before the tribunal in response to a plea filed by Birendra Singh Matura and others alleging that the road widening work for the project was being carried in violation of the Bhagirathi Eco Sensitive Zone Notification. It had claimed there was continuous blasting of mountains and dumping of debris in the river Ganga in the stretch of NH-34 between Gangotri and Bhaironghati. 
On May 4, the green panel had issued notices to the Ministry of Environment and Forests, Ministry of Road Transport, NHIDCL, BRO and Uttarakhand government on the plea. Prime Minister Narendra Modi in December last year had laid the foundation stone for the Chardham highway development project to be built with an investment of Rs 12,000 crore in Uttarakhand.