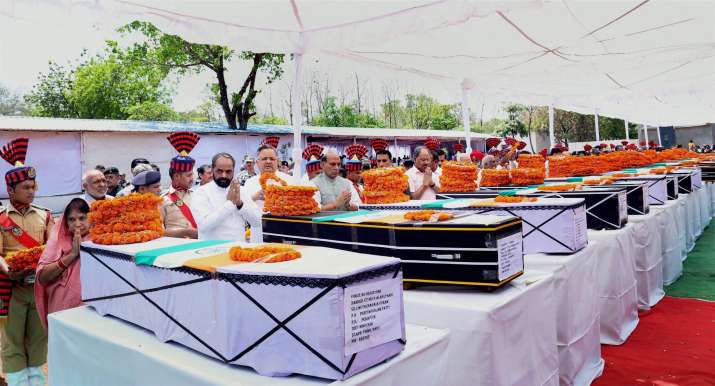 At least 25 CRPF personnel were killed and seven wounded in Chhattisgarh's Sukma district yesterday, the deadliest attack by the naxalites on security forces in seven years.  
The nearly 100-strong CRPF patrolling party providing security for road construction work came under fierce gunfire from 300-odd Maoist.
This was the biggest casualty of security forces after 2010, when 76 CRPF personnel lost their lives in IED attack on April 6. 
The attack took place in Kalapathar area of south Bastar region, one of the worst-hit by Left-wing extremism in the country. The area is close to the Chintagufa-Burkapal-Bheji axis, the hotbed of naxal violence which has seen a number of such attacks in the past resulting in high casualties. 
Here is a chronology of major Maoist attacks over the since 2008:
March 11, 2017: 12 jawans of 219 Battalion of CRPF killed in a Maoist ambush in Sukma district. The Maoists took away the weapons from the dead personnel. 
July 19, 2016: 10 CRPF commandoes killed in the jungles of Bihar's Aurangabad district.
April 11, 2015: Seven policemen killed in an encounter with Naxals in Sukma. 
June 14, 2014: Naxals kill three passengers and injure six others after hijacking Dhanbad-Patna express train in Jamui district of Bihar.
April 10, 2014: Naxals blow a CRPF jeep, killing six commandoes and two others in Jamui district of Bihar.
March 11, 2014: 15 security personnel were killed in Sukma district.
February 28, 2014: Six police personnel, including an SHO were killed in an attack in Dantewada district.
July 2, 2013: Five police personnel, including Superintendent of Police for Pakur, Jharkhand were killed in an attack by Naxals in Dumka area.
May 25, 2013: In one of the deadliest Maoists attacks in recent history, almost entire Congress leadership of Chhattisgarh was wiped out. 28 people including state Congress chief Nand Kumar Patel, former state minister Mahendra Karma were among those killed.
October 18, 2012: Six CRPF jawans were killed and eight were left injured in a Maoist ambush in Gaya district of Bihar.
June 29, 2010: 26 CRPF jawan were killed in Maoist ambush attack in Chhattisgarh's Narayanpur district. 
May 8, 2010: Eight CRPF personnel were killed after Naxals blew up a bullet-proof vehicle in Bijapur district.
April 6, 2010: A Chhattisgarh police official and 75 CRPF jawans were killed in a Maoist ambush in Dantewada.
April 4, 2010: Anti-naxal force Special Operations Group team came under Maoist attack. 11 personnel of the SOG were killed in a landmine blast in Koraput district of Odisha.
February 15, 2010: 24 personnel of the Eastern Frontier Rifles (EFR) were shot dead by Maoists when they attacked the forces' camp in Sealdah in West Bengal's West Midnapore district.
October 8, 2009: Laheri police station in Maharashtra's Gadchiroli district came under Maoists attack in which 17 policemen were killed.
Sep 26, 2009: BJP MP Baliram Kashyap's sons were killed in a maoist attack at Pairaguda village in Jagdalpur. 
Sep 4, 2009: 4 villagers were killed by Maoists in a forest in Aaded village, Chhattisgarh.
July 27, 2009: 6 were killed in a landmine blast triggered by Naxals in Datewada.
July 18, 2009: A villager from Bastar district was killed by Naxalites while a road construction vehicle was burnt down in another incident episode in Bijapur.
June 23, 2009: Motorcycle borne armed naxals targeted Lakhisarai district court in Bihar to free their comrades. Naxal group's zonal commander of Ranchi was among those freed during the firing by the insurgents.
June 16, 2009: 11 police officers were killed in a landmine attack followed by armed assault. In a separate attack, four policemen killed and two others seriously injured when Maoists ambush them at Beherakhand in Palamau district.
June 13, 2009: 10 policemen were killed win landmine and bomb attacks in a small town close to Bokaro.
June 10, 2009: Nine security personnel, including CRPF troops and policemen, were ambushed by Maoists during a routine patrol in Saranda jungles in Jharkhand.
May 22, 2009: At least 16 police personnel were killed in a Maoist attack in jungles in Maharashtra's Gadchiroli district.
April 22, 2009: Maoists hijacked a train with at least 300 people on board. They took the train to Jharkhand's Latehar district before fleeing.
April 13, 2009: 10 paramilitary troops killed in an attack near a bauxite mine in Koraput district in eastern Odisha. 
July 16, 2008: 21 policemen killed after Maoists blew up a police van with a landmine in Odisha's Malkangiri district.
June 29, 2008: Maoists targeted a boat carrying four police officials and 60 greyhound commandoes at Odisha's Balimela reservoir. 38 troops were killed in the ambush.
Feb 16, 2008: A group of 50 naxals including women cadre raid a police training school, a police station and an armoury in Odisha, killing 12 policemen.