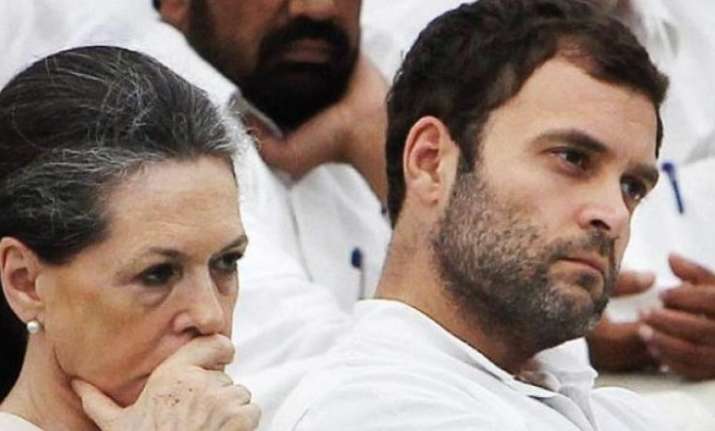 Attacking Congress President Rahul Gandhi and his mother Sonia Gandhi over a court order asking the publishers of the National Herald newspaper to vacate a premises in Delhi, BJP chief Amit Shah on Sunday alleged that the mother-son duo tried to evade Rs 600 crore in income tax and had sought to illegally register a public property worth crores in their name.
The Delhi High Court had last month asked the Associated Journals Ltd (AJL), the publisher of National Herald in which Congress chief Rahul Gandhi and Sonia Gandhi were shareholders, to vacate the premises in the Press Enclave at ITO in the national capital.
Those appropriating public property should not target Prime Minister Narendra Modi, the court had said.
Addressing a booth workers' rally in Union Territory of Dadra and Nagar Haveli after inaugurating the new office of the BJP, Shah also said the BJP would work to flush out every infiltrator right from "Kashmir to Kanyakumari and from Kamrup (Assam) to Kutch (Gujarat)" if the party returns to power again.
Singling out Rahul, Shah said the Congress government "lacked courage" to raise income of farmers.
"The mother-son duo of Sonia Gandhi and Rahul Gandhi tried to evade Rs 600 crore in income tax and illegally registered a public property (Herald House in Delhi) worth crores in their name," Shah said, alleging "Rs 12-lakh crore corruption" under the erstwhile Congress-led UPA government.
While Gandhi's entire family lineage was "mired in corruption", there was not a single blot on Modi, the BJP chief said.
"Those appropriating public property cannot target Modi. When Rahul Gandhi levels corruption charges against Modi, he should first open his eyes. His entire family lineage is mired in corruption charges and there is not a single blot on Prime Minister Modi," Shah said.
Slamming the Rahul Gandhi-led party, Shah said the Congress was making "false allegations" over corruption in the Rafale fighter aircraft deal when there is none.
"Defence Minister Nirmala Sitharaman has silenced Rahul Baba with her 2.5-hour-long speech in Parliament during a debate on Rafale issue by offering all facts," he said.
Shah said Rahul continued to spread falsehood despite a Supreme Court ruling in December.
"I said let's have a debate in Parliament (over Rafale). It was debated in the Parliament. You all listen to the speech of Nirmala Sitharaman," Shah told the party workers.
He said the BJP government under Modi started offering 1.5 times estimated production cost to farmers across the country after coming to power.
The security of the country was "set aside" by the erstwhile Congress government of "Sonia and Manmohan Singh", Shah alleged.
On National Register of Citizens (NRC) in Assam, Shah said his government has pledged to detect, delete and deport "infiltrators" from the country.
"Rahul Baba and company, including Samajwadi Party, Bahujan Samaj Party, DMK, Communist Party, got together asking why they (infiltrators) were being expelled, as if they were sons of their aunt," Shah said.