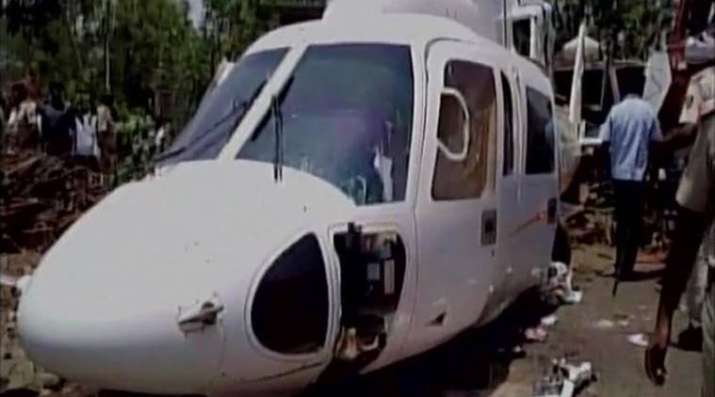 Maharashtra Chief Minister Devendra Fadnavis had a narrow escape today after a helicopter that he boarded for his return to Mumbai from Latur met with an accident and fell to the ground seconds after taking off.
The CM, who was travelling with some other senior officials of the state, is safe. A technical fault is said to be the reason why the CM's helicopter failed to take off and fell to the ground metres above the ground. An investigation into the incident has been launched, DGCA said.
The incident could have proven fatal had the helicopter been any higher in the air.
#WATCH: Dramatic visuals of crash-landing of Maharashtra CM Devendra Fadnavis's chopper in Latur, CM and team escaped unhurt. pic.twitter.com/xTikKyvkhg

— ANI (@ANI) May 25, 2017
Fadnavis himself took to Twitter to confirm that his chopper did meet with an accident but he and his team are safe and there was nothing to worry about.
Our helicopter did meet with an accident in Latur but me and my team is absolutely safe and ok.
Nothing to worry.

— Devendra Fadnavis (@Dev_Fadnavis) May 25, 2017
The Maharashtra CM was on a visit to Latur and attended several public engagements and was to return to Mumbai when the accident occurred.
The CM was in Halgara village in Latur where he was meeting with the locals at a Shivar Sabha and discussing water management. 
This was the tweet he put out barely half an hour before the accident. 
That's our #ShivarSabha where we are discussing on how our Great King Chhatrapati ShivajiMaharaj planned his forts based on water,for water! pic.twitter.com/ib935zVBIj

— Devendra Fadnavis (@Dev_Fadnavis) May 25, 2017
The helicopter arrived at this village and was to take Fadnavis to Mumbai where he was to attend a programme in the evening. 
According to sources, the CM is currently on the way to Latur city by road. 
In a video message released minutes ago, the chief minister said: "Fortunately, I have the blessings of more than 11 crore people of Maharashtra so I have escaped without any injuries," he said.
Speaking to a news channel, Fadnavis informed that his vitals have been checked and that he is stable. He further said that there were four people in the chopper when the crash happened.
Fadnavis has said there will be the regular DGCA inquiry in the incident. "It was new helicopter, only 6-7 years old. It can be counted among the good helicopters. The DGCA will inquire into the incident," he said.
According to the DGCA, there were four people on board and two crew members.
Notably, this isn't the first time that the CM has had trouble with his chopper. Earlier in May, Fadnavis had to travel by road from the Naxal affected Gadchiroli district to Nagpur after his chopper developed a technical snag before take off.