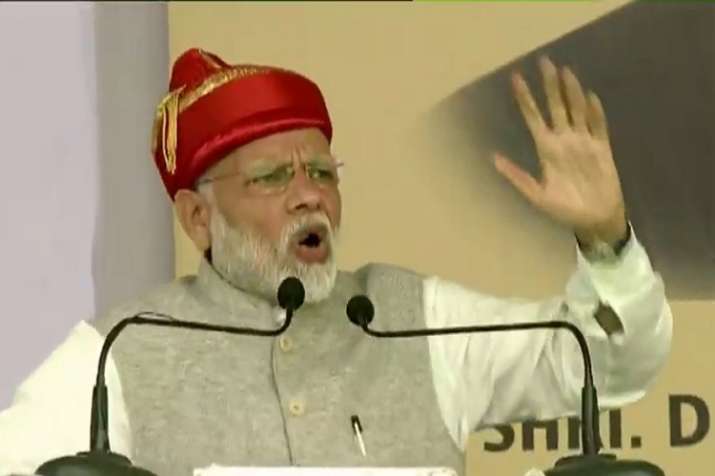 Prime Minister Narendra Modi inaugurated a stretch of National Highway 211 in Maharashtra on Wednesday, which will improve the connectivity of Solapur with the Marathwada region. The prime minister had laid the foundation for this project in 2014. 
During the event he also talked about the passage of the upper caste reservation bill in Lok Sabha on Tuesday.
"Yesterday late night, a historic bill was passed in Lok Sabha. By passing the bill regarding 10% reservation being granted to economically weaker section in the general category, our principle of 'Sabka sath sabka vikas' has been further strengthened," he said.
"Our government is not only concerned about poor but also the middle class," he said and added, "New law will give birth to a new India."  
While talking about the Citizenship (Amendment) Bill, he said, "Yesterday, the Citizenship (Amendment) Bill was passed in Lok Sabha. I want to assure people from northeast & Assam that their rights will not be compromised with this decision," he stressed.
PM also attacked the Congress party and said that in AgustaWestland case now the big leaders of the grand old party will answer.
"As per media, the middleman of helicopter deal who has been brought to India from foreign country was not only involved in the helicopter deal, but also in France fighter jet deal of previous government," said Modi.
"Prime Minister Narendra Modi will dedicate to the nation the 58 km, four-laned, Solapur - Tuljapur - Osmanabad section of NH-211 (New NH-52) in Solapur in Maharashtra tomorrow," the Ministry of Road Transport and Highways said in a statement.
The project is part of a larger project for four laning of 98.717 km Solapur-Yedashi section of NH-211 at a cost of Rs 972.50 crore and will help improve the connectivity of Solapur, with the important Marathwada region of Maharashtra.
The statement said that the section of the NH to be dedicated to the nation Wednesday has road safety features like 2 major and 17 minor bridges, 4 vehicular and 10 pedestrian underpasses, besides one 3.4 km bypass at Tuljapur that will help decongest the city. 
The statement said that the total length of National Highways in the country was only 91,287 km as on March 31, 2014 and has been enhanced to about 1,31,326 km at present. 
In addition to this about 53,031 km of state roads have been declared as new NHs in principal, it said. The aim is to enhance the length of National Highways in the country to 2 lakh kms, it added.
Watch Video
(With inputs from agencies)