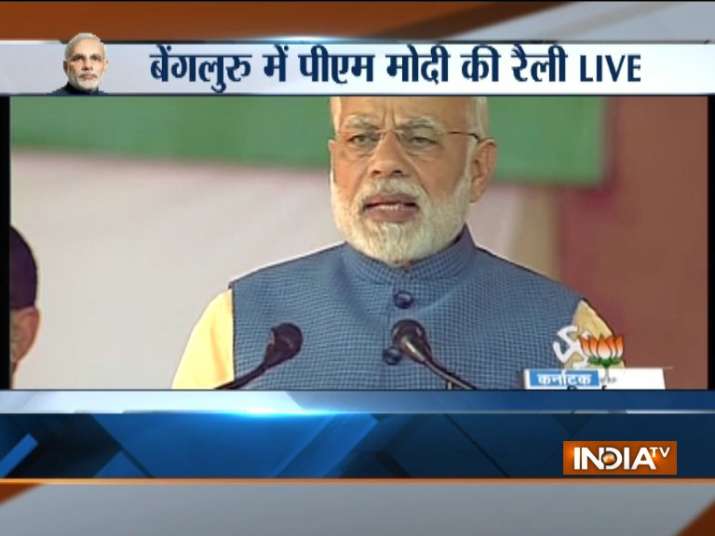 Prime Minister Narendra Modi is addressing a massive BJP rally in Bengaluru to mark the conclusion of the party's Nava Nirman Parivarthan yatra across poll-bound Karnataka. 
Though the rally was earlier scheduled on January 28, on the conclusion of the three-month yatra that began here on November 1, it was put off to February 4, owing to his pre-occupation with other engagements.
Elaborate security arrangements have been made for the rally at the sprawling venue in the city centre where the party is expecting at least one lakh people to attend and listen to Modi's speech.
More than 3,000 police personnel and an additional 1,200 traffic policemen have been deployed to ensure that the rally and the PM's speech -- which will be held at the Palace Grounds in the heart of the city -- goes smoothly.
Here are the highlights:
05:49 pm: Congress is trying to stall Triple Talaq. They are trying to do the same with OBC Bill: PM Modi in Bengaluru, Karnataka
05:46 pm: Congress made several attempts to stop the Triple Talaq Bill: PM Modi
05:44 pm: We aim to provide home to all poor and middle class families. Our government has sanctioned 3.36 lakh houses under PM Awas Yojana (urban). However, only 38,000 houses have been completed so far in Karnataka: PM Modi
05:39 pm: There are serious allegations of corruption against Congress leaders. Reports are coming about them demanding commission in several projects. I have been told that Karnataka govt is being recognised as 10% govt as no work is possible without 10% commission: PM Modi
05:38 pm: This is the culture of Karnataka but the present state govt is ruining this culture: PM Narendra Modi in Bengaluru
05:38 pm: Our U19 Cricket Team won World Cup yesterday. Their head coach Rahul Dravid was a significant factor behind this victory and this can't be denied. He teaches us to work honestly and live for others: PM Modi in Bengaluru
05:33 pm: Yahan kanoon se zyada apraadhiyon ka raaj nazar aata hai. World is discussing ease of doing business but here ease of murdering is being discussed. The one who opposes ends up losing life. This is dangerous for democracy & shameful for state govt: PM Narendra Modi at Bengaluru
05:30 pm: Farmers producing fruits & vegetables are our 'TOP' priority. 'TOP' means 'Tomato, Onion & Potato'. We have launched 'Operation green' in interest of these farmers. 'Operation green' would be beneficial for farmers just like the Amul model was successful in dairy: PM Modi
05:26 pm: When facilities are provided to villages, migration to cities will go down and the mounting pressure on cities will be released: PM Modi 
05:25 pm: In this budget, govt has made a significant decision so that correct price of crops are given to farmers. If Yeddyurappa, son of a farmer, becomes CM of Karnataka, the projects for farmers will work at its best because Yeddurappa has farmer's best interest at heart: PM Modi
05:22 pm: During Congress regime, Karnataka got Rs. 73000 crore. However, we have provisioned Rs. 2 lakh crore for it which is more than 180% more than Congress had provided
05:21 pm: Under Udaan we have planned to construct 56 new airports and 31 new helipads and I have a dream to make air travel cheaper for everyone. Our govt is about reform, perform and transform: Modi
05:20 pm: The government has set a goal to build more than 9,000 kms long National Highway across the nation this year. Under Bharatmala Pariyojana, 35,000 km of roads will be constructed with an investment of Rs 5,25,000: PM Modi in Bengaluru
05:16 pm: The recent budget has solved one problem of Karnataka. with an investment of 17,000 crores, construction work of 160 km long sub-urban railway network will be started in Bengaluru. 15 lakhs commuters of the city will be benefited by it
05:15 pm: In Karnataka, around 8.5 lakh women have been provided free LPG connection under PM Ujjwala Yojana. 34 lakh toilets have been made under Swachh Bharat Abhiyan
05:14 pm: I want to ask you if you have seen the correct use and impact of extra money provided by the Center to the state government: PM Modi
05:13 pm: In Karnataka, 1.85 crore free LPG connections has been given. 34 lakh toilets have been made under Swachh Bharat Abhiyan: PM Modi
05:11 pm: There will be chaos in Bengaluru if it doesn't get electricity for a day. However, there are 7 lakhs homes in Karnataka & 4 crores homes in the nation which lives in dark even after so many years of independence: PM Modi
05:10 pm: Under PM Jan Dhan Yojana, more than 1.16 crore accounts were opened in Karnataka, opening doors of banking for the poor and lower middle class: PM Modi
05:09 pm: More than 1 crore loans have been sanctioned for the people of Karnataka under Mudra Yojana: PM Modi
05:04 pm: BJP government will be people's government in Karnataka, will work for the betterment of the state: PM Modi 
05:03 pm: The Congress is standing on the exit door and Karnataka will soon be free from Congress culture: PM Modi
05:01 pm: Your enthusiasm shows that the countdown of Congress to make an exit has begun. Congress is standing at the exit gate in Karnataka. It has caused destruction here and Karnataka doesn't need a Congress culture: PM Modi in Bengaluru
05:00 pm: PM Modi addresses Yeddyurappa as the Karnataka's 'centre of hope'
04:58 pm: The country does not need such culture of destruction that Congress continued to do throughout: PM Modi
04:57 pm: Karnataka has decided to get rid of Congress, I can see that: Pm Modi
04:38 pm: 
PM Shri @narendramodi to address 'Parivartana Yatre' rally in Bengaluru shortly. Watch LIVE at https://t.co/O09xYZ8w2k #KarnatakaTrustsModi pic.twitter.com/tUmZiauPrc

— BJP (@BJP4India) February 4, 2018
04:24 pm: 
Karnataka: Students of a college seen selling pakora in Bengaluru. pic.twitter.com/b5qpd1ePbh

— ANI (@ANI) February 4, 2018
03:45 pm: Responding to the CM's tweets, state BJP chief BS Yeddyurappa alleged that Karnataka has scripted several firsts like corruption, farmers suicide and collapse of law and order under Siddaramaiah's regime.
03:42 pm: Ahead of PM Modi's public rally, Karnataka chief minister Siddaramaiah asked him to "find time" to resolve the inter-state Mahadayi River water row with neighbouring Goa.
03:35 pm: 
PM Shri @narendramodi to address 'Parivartana Yatre' rally in Bengaluru today at 4pm. Stay tuned for LIVE updates. You can also listen to PM's speech live by dialling in +919345014501. #KarnatakaTrustsModi pic.twitter.com/xJsaVjfr47

— BJP (@BJP4India) February 4, 2018
03:30 pm: The Karnataka High Court had suspended the bandh called by pro-Kannada farmers' groups on Sunday over the Mahadayi water dispute issue. The bench observed that the bandh calls given by Kannada Chalavali Vatal Paksha on January 25 and February 4 "violates the democratic rights of citizens".
12:32 pm: 
Bengaluru: Ahead of PM Narendra Modi's visit, Pro-Kannada activists demand his intervention in the Mahadayi River dispute. #Karnataka pic.twitter.com/vPbDlegvyt

— ANI (@ANI) February 4, 2018
Thousands of youth, especially techies and executives if IT and biotech companies in the city will attend the rally. 
"About 30,000 people from across the city have responded, expressing interest in attending the rally and listen to Modi's speech. We hope most of them will turn up as elaborate parking facility has been made for their vehicles at the venue," said a party official.