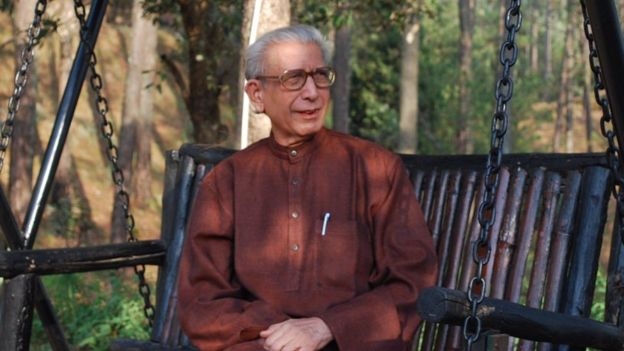 Renowned Hindi author and progressive literary critic Namwar Singh, a recipient of the Sahitya Akademi Award, has died. His family members confirmed the news. He was 92 and breathed his last at the All India Institue of Medical Sciences (AIIMS) in New Delhi. 
Writer-journalist Om Thanvi said that Namwar Singh's cremation will take place on Wednesday at the Lodhi crematorium.
"The Hindi literary world has plunged into darkness. Noteworthy thinker and a harbinger of Hindi literature passed away," he said.
Namwar Singh was born in Jiyanpur village of Uttar Pradesh's Chandauli district. Singh went on to complete his PhD from the Banaras Hindu University under the guidance of Acharya Hazari Prasad Dwivedi. 
Also read | Renowned Hindi author Namwar Singh passes away
Dr Namwar Singh's career began at the BHU where he took his first job as a teacher. Namwar Singh went on to teach in prestigious universities like Sagar University and the Jawahar Lal University in the national capital. He retired from JNU in the year 1992 but continued writing for newspapers and magazines till illness got him bedridden. 
Kavita Key Naye Pratiman, Chaywaad, Itihas aur Alochana, Dusri Parampara ki Khoj and Vaad Vivaad aur Samvaad are among Namwar Singh's most famous works. Namwar Singh took Hindi literature to new heights. His name in Hindi world is taken with same breath as Sachchidananda Vatsyayan 'Agyeya'. Many called him Hindi literature's biggest statesman. 
Namwar Singh's writing reflected a fresh approach and Hindi world took note of his style. He created quite a flutter with his writing in the 1950s. His writing never reflected his communist leanings and by 1960s Namwar Singh was a name that could make or break reputations of writers in Hindi literature. 
"Namwar Singh was a critic of Vaachik Parampara (oral tradition) and took Hindi literature to heights never seen before," says Dr Amitesh Kumar, an Assistant Professor at the Allahabad University. 
"Dr Singh established a dialogue with books. He was an advocate of literature, poetry and thoughts in general. Till his last breath he kept engaging with the literary sphere, " says Anurag Vats, journalist and editor of noted Hindi blogzine Shabad.  
Leaders from across the political spectrum, including Prime Minister Narendra Modi, on Wednesday, condoled Namwar Singh's demise.
हिन्दी साहित्य के शिखर पुरुष नामवर सिंह जी के निधन से गहरा दुख हुआ है। उन्होंने आलोचना के माध्यम से हिन्दी साहित्य को एक नई दिशा दी। 'दूसरी परंपरा की खोज' करने वाले नामवर जी का जाना साहित्य जगत के लिए अपूरणीय क्षति है। ईश्वर दिवंगत आत्मा को शांति दे और परिजनों को संबल प्रदान करे।

— Narendra Modi (@narendramodi) February 20, 2019
Communist Party of India (Marxist) Sitram Yechury said the author and critic will continue to hold a "very special place in the literary world. His work and contribution will be inspiring many generations to come".
डॉ नामवर सिंह का साहित्य की दुनिया में बहुत विशेष स्थान था। उनका काम और उनका योगदान, उनके जाने के बाद भी कई पीढ़ियों को प्रभावित करेगा। उन्हें श्रधांजलि। https://t.co/Tom8bW2GC4

— Sitaram Yechury (@SitaramYechury) February 20, 2019
(Himanshu Shekhar is a Senior Editor at India Tv and tweets at @HimaanshuS)