Nagaland: Horrifying pictures have been unveiled displaying the cruel underground dog trade in India where pets' mouths are stitched together before they are slaughtered to death.
These pictures were taken at a dog meat death pit in Kohima, where canines were beaten with wooden sticks and killed in front of each other for their meat.
It's thought more than 30,000 dogs are killed by smugglers - who stitch their lips together to keep them quiet during transport - every year in Nagaland, India, alone.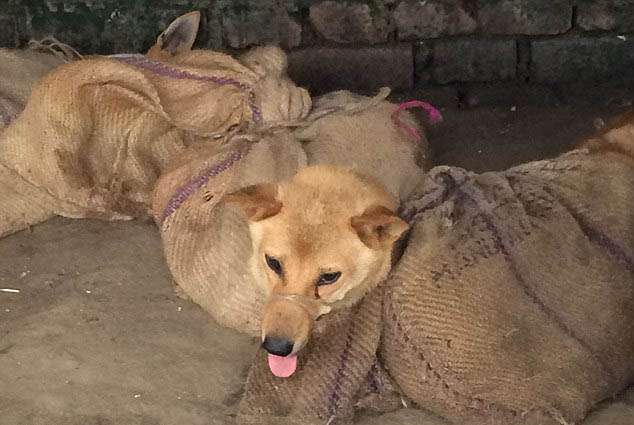 The pictures were taken by Humane Society International in India (HSI/India) at local markets in Kohima and Dimapur.
It shows dogs packed in sacks with just their heads poking out, their mouth either stitched closed or bound tight with rope to keep them quiet so that they can be illegally smuggles into Nagaland from neighbouring states.
During transport and display in the markets, they are denied movement, food or water, before finally being killed mercilessly.  
The limp, dead bodies of the bloodied dogs are thrown around the market, landing on other canines who watch on as they await the same fate.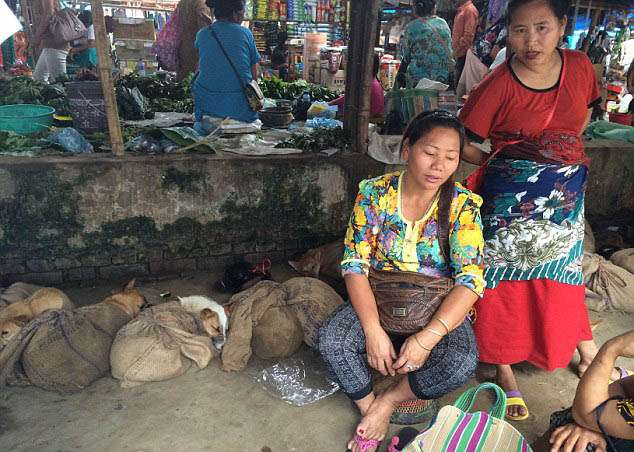 HSI India's managing director, N. G Jayasimha, who witnessed the dog death pits, said: 'It has been a heart-breaking experience to go to Nagaland and watch these terrified dogs being subjected to such a horrific death.
"I see animal suffering every day as part of my job at Humane Society International/India, but the brutal dog trade of Nagaland is some of the worst inhumanity to animals I have ever witnessed, and it still haunts me. 
"The underground pit in Kohima where we filmed was like a nightmare. 
"The look of helplessness and fear in the eyes of these animals was devastating - hog-tied in a bag unable to move, their muzzles tied shut so they could hardly breathe, witnessing other dogs around them being beaten and killed. 
"It was clear to me that many of the dogs were stolen pets still wearing their collars, but whether street or pet dogs, none of these animals should ever have to endure such cruelty."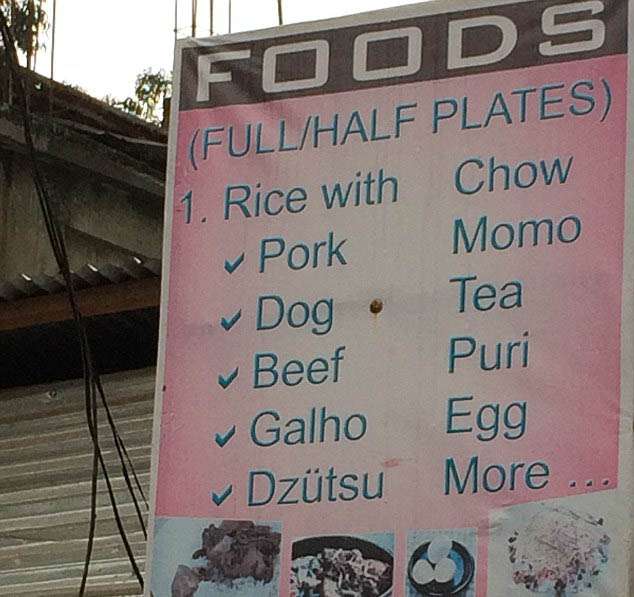 The society has now launched a campaign to end India's brutal and illegal dog meat trade. 
HSI/India has written to the Chief Minister of Nagaland to urge the government to implement the existing ban on dog meat consumption, patrol trade routes and shut down markets. 
The organisation has also launched an online petition calling on the authorities to enforce India's dog meat ban immediately.   
The consumption of dog meat is already against the law in India, as is the cruel transport and treatment of animals, which violates animal transportation provisions and the Prevention of Cruelty to Animals Act, 1960.