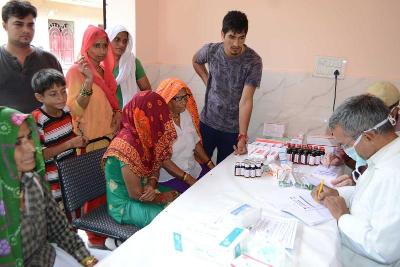 The onset of the monsoon across the country as well as the national capital has led to a spurt of incidents of high fever and vector-borne diseases, including dengue, malaria and chikungunya. However, in what should sound warning bells for health authorities, a mystery fever has gripped a village near Noida's Sector 73 over the past fortnight, claiming more than 10 lives so far.
According to a report in the Times of India, at least 12 people lost their lives in the Sarfabad village, with the victims between the age group of 21-72 years.
More than 100 people are suffering from fever in the village, the report said. 
"There is panic among locals. The administration should quickly control the situation," Sukhveer Pahalwan, a Sarfabad resident and social activist told TOI.
Singh, who held a meeting with officials of the health department and Noida Authority, said a medical camp was set up in the village after the incident, in which they received a total of 350 patients in the camp and 80 people were found to have mild fever.
Dr Vijay Deepak Verma, chief medical officer of Gautam Budh Nagar, said that the victims had died over a period of two months. 
"These people died of different illnesses. One person died of heart attack, one of liver failure, and one of cancer. Some people have also reportedly died of high fever. We are taking preventive measures," he further added. 
Residents alleged that poor sanitation in the locality has resulted in the situation. 
Waking up to the menace, although quite late, the administration has ordered spraying of anti-larval medicines in the affected areas and ordered a probe to ascertain whether the cause of all deaths is an outbreak of a disease.