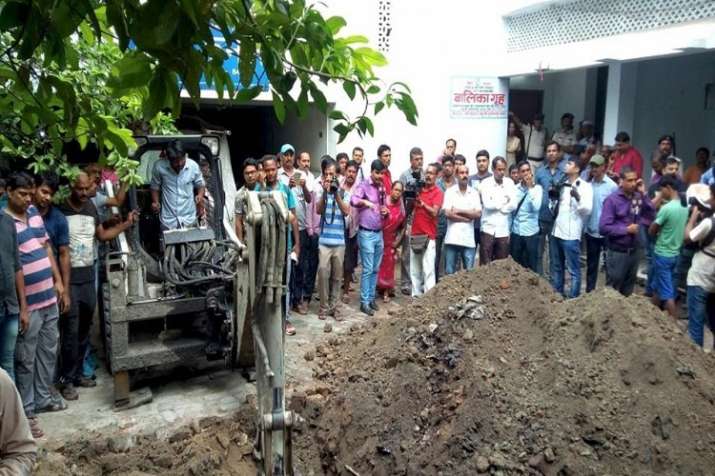 Amidst public outrage over the alleged sexual abuse of girls at a state-funded shelter home in Muzaffarpur, the Bihar Social Welfare Department on Sunday suspended 14 officials on account of their 'negligence and dereliction of duty.
The suspended officials include seven assistant directors of Child Protection Units, six district child protection officers and superintendent of a remand home for juvenile prisoners.
The notifications of their suspension, which were issued on Saturday were uploaded on the department's website on Sunday.
All the officials have been suspended with immediate effect and attached to the offices of the divisional commissioners concerned.
The suspended officials include assistant directors of Child Protection Units in Muzaffarpur, Munger, Araria, Madhubani, Bhagalpur, Gaya and Bhojpur districts.
The suspended district child protection officers were posted in Araria, East Champaran, Patna, Gaya, Madhepura and Sheohar.
The Muzaffarpur district child protection officer was named as one of the accused in the shelter home scandal and arrested last month.
Besides, the superintendent of a remand home at Araria has been placed under suspension.
All the officials have been charged with "failure to take adequate legal action" with regard to "assault, indecent behaviour and other undesirable activities" at shelter homes within their respective areas of jurisdiction.
The suspension orders pointed out that the Mumbai-based Tata Institute of Social Sciences (TISS) had pointed out these anomalies, which the officials "did not bring to the notice of higher officials in inspection reports".
The officers were also directed at a state-level meeting on May 26 to take necessary action in the light of the TISS audit reports findings, but their failure to do so resulted in "lack of timely action against the guilty which has caused an embarrassment to the department and the government".
The TISS had pointed out sexual abuse of inmates at the Muzaffarpur shelter home which led to an FIR, followed by arrests of 10 people. Medical reports have so far confirmed sexual abuse of more than 30 girls and the matter has been handed over to the CBI.
The TISS report is also said to have pointed out ill-treatment of inmates at other such shelter homes for girls or boys in various districts and the opposition has been criticising the government for lack of action in this regard.
The shelter home came under the spotlight following a social audit report by TISS which detected large-scale complaints from inmates of sexual exploitation. Medical examination of the inmates confirmed sexual exploitation in the case of 29 of the 44 girls. The police registered a case against 11 people including Brajesh Thakur and Madhu Kumari on May 31. All 44 girls have since been shifted to short-stay homes in Madhubani, Patna and Mokama.