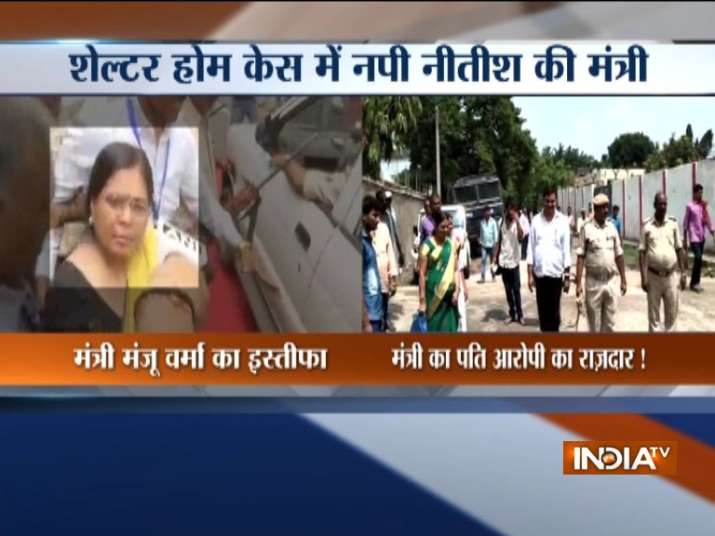 Bihar's Social Welfare Minister Manju Verma resigned from Nitish Kumar Cabinet on Wednesday.
The Opposition was demanding Manju Verma's resignation as her husband was allegedly in touch with Brajesh Thakur, the man who ran the Muzaffarpur shelter home from where rape cases were reported. Resignation came after Thakur accepted that he used to talk to Verma's husband. 
"I resigned because media and opposition had created a furore," Verma said while adding that she has full faith in CBI and Judiciary. 
"I am sure truth will be out and my husband will come out clean," she further said.
She also stressed that her husband is innocent. She demanded that call records of accused Brajesh Thakur should be made public.
On May 31, an FIR was lodged  against 11 persons, including Thakur, the owner of the NGO 'Seva Sankalp Evam Vikas Samiti' which ran the home for destitute girls funded by the government.
The Patna High Court is monitoring the ongoing CBI investigation into the case.
Meanwhile, the main accused Thakur, who is in jail, on Wednesday denied any involvement in the rape of 34 minor girls in the welfare facility, saying he was being framed.
He said it was a "conspiracy" and he has no relation with Bihar Social Welfare Minister Manju Verma. He said he was innocent.
"A conspiracy was hatched against me as I wanted to join the Congress and wished to fight from the Muzaffarpur seat," news agency IANS quoted Thakur as saying when he along with the other accused in the case was being taken from the jail to be produced in a court.
Watch Video: Bihar minister Manju Verma resigns