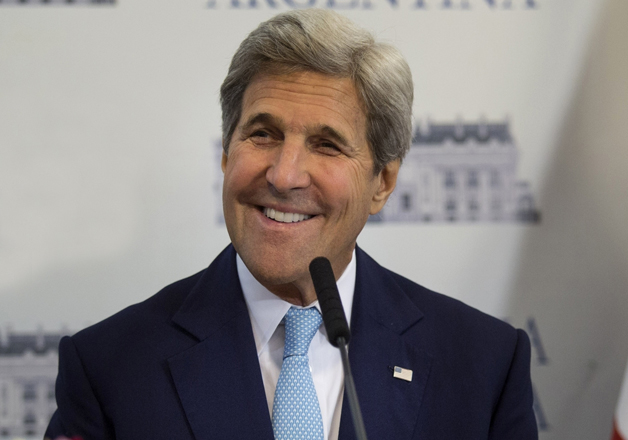 Having faced the wrath of heavy rains upon his arrival to the national capital, US Secretary of State John Kerry today took a swipe at the Delhi rains after it caused a delay in his scheduled programme at IIT Delhi.
Heavy rains on Wednesday morning caused waterlogging in many areas and massive traffic jams in the national capital, leading to people getting stuck on the roads including visiting Kerry.
Kerry, who is on his fourth visit India, was scheduled to have a talk with IIT Delhi's students at 9.30am, but was delayed as heavy rains lashed the capital. He arrived closer to 11 am, instead.
Kerry began his address to the students by taking a dig at the weather asking 'if they had come to campus on boats'.
"I don't know how you all got here, you must have needed boats to get here," he joked.
WATCH: Have you (students) come here in boats? Asked US Secretary of State John Kerry at IIT #DelhiRains pic.twitter.com/K13Qav6Bx4

— ANI (@ANI) August 31, 2016
The Secretary later got a warm welcome from students and talked about India's potential.
"India is an established power today. Wherever I go, I find a robust debate, and an ambitious vision of future. This is perhaps in Indian DNA," he said.
Earlier on Monday evening, Kerry got a taste of Delhi's infamous monsoon traffic jams when his cavalcade was stuck in the traffic snarl for an hour due to the waterlogging caused by heavy rain.
Kerry, who landed in the capital at 8 pm, was on his way to his hotel in Chanakyapuri when his convoy got stuck in a traffic snarl near Teen Murti Marg.
Kerry's cavalcade was stuck near the Teen Murti crossing as the Shantipath-Teen Murti roundabout was waterlogged. Cops had to stop traffic on all the other stretches for half an hour to allow the cavalcade to pass.
Meanwhile, officials informed that Kerry's visit to holy places today has been postponed due to heavy rains. He was scheduled to visit Sisganj Gurudwara, Jama Masjid and Gauri Shankar temple.
'Citizens should be allowed to protest in peace without fear'
Making a strong pitch for the right to dissent, Kerry in his address said that people should be allowed to protest in peace.
"We have to respect the rights of all our citizens irrespective of creed and allow them to protest in peace without fear that they will be jailed," Kerry said here.
His comments come days after the US State department said it supported 'the right to freedom of expression and assembly, including through civil society', on sedition charges against rights watchdog Amnesty International over a Kashmir-related event in Bengaluru, where slogans of "Azadi" (freedom) were raised.