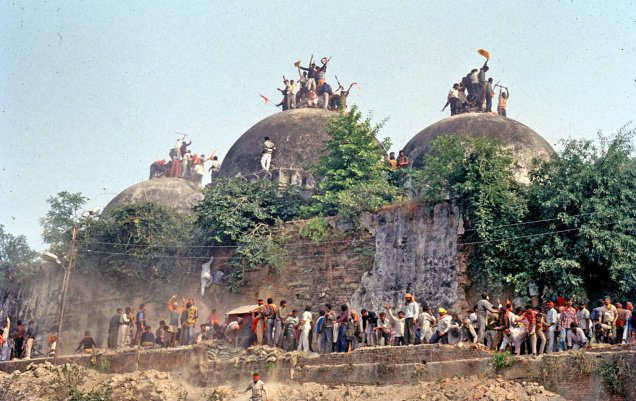 The All India Muslim Personal Law Board (AIMPLB) will be discussing contentious issues like the Ayodhya dispute and triple talaq during its two-day meeting to be held later this week.
According to AIMPLB member Maulana Khalid Rashid Farangi Mahali, the meeting will be held at Nadwatul Ulama in Lucknow on April 15-16. 
He further  said the meeting will discuss the Ayodhya dispute against the backdrop of the Supreme Court's suggestion for an out of court settlement and the issue of triple talaq.
"The matter of Babri mosque is very crucial and discussion will be held whether there can be any way for talks for its settlement," the Maulana said.
The meet will also discuss ways to highlight the board's functions and activities through social media and strengthen its women's wing.
The AIMPLB has been facing resentment from Muslim women who are victims of triple talaq and many of them have filed PILs in the Supreme Court challenging the provision of triple talaq and 'nikah halala', terming them regressive.
The board, however, opposed the PILs and also filed a counter affidavit in the apex court defending Muslim Personal Laws and triple talaq.
The Muslim Personal Law Board had recently told the Supreme Court that the pleas challenging such practices among Muslims were not maintainable as the issues fell outside the realm of judiciary.
The Board had also said that the validity of Mohammedan Law, founded essentially on the Holy Quran and sources based on it, cannot be tested on the particular provisions of the Constitution.
The Centre had on October 7 last year opposed in the Supreme Court the practice of triple talaq, 'nikah halala' and polygamy among Muslims and favoured a relook on grounds like gender equality and secularism.
The Ministry of Law and Justice, in its affidavit, had referred to constitutional principles like gender equality, secularism, international covenants, religious practices and marital law prevalent in various Islamic countries to drive home the point that the practice of triple talaq and polygamy needed to be adjudicated upon afresh by the apex court.
The apex court had taken suo motu cognisance of the question whether Muslim women faced gender discrimination in the event of divorce or due to other marriages of their husband.
(With PTI inputs)