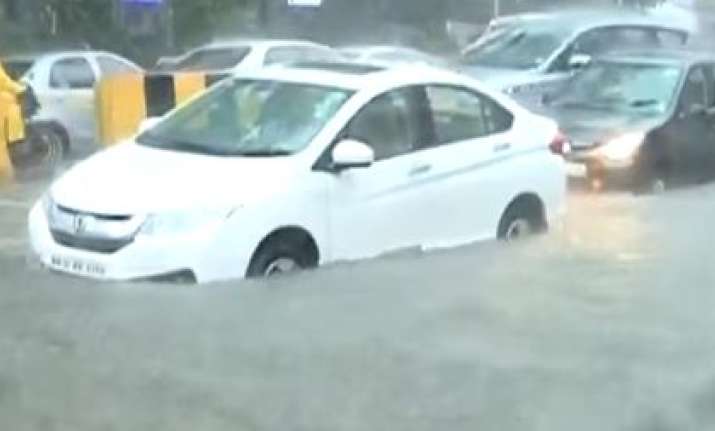 Pre-monsoon showers have thrown life out of gear in Mumbai. The India Meteorological Department (IMD) has predicted that the monsoons will hit the city in the next 48 hours. Weather department has also predicted "heavy to very heavy" rainfall along the Maharashtra coast, including Mumbai, over this weekend. The Mumbai civic body is preparing itself to prevent and tackle monsoon-related disasters. It has taken several precautionary measures to tackle any eventuality in view of extremely heavy rainfall warning by (IMD) from June 9 to 11, reported PTI
As per the IMD forecast, there is a possibility of very heavy rainfall in Ratnagiri, Sindhudurg, Mumbai, Thane, Raigad and Palghar districts on June 9. There is a similar forecast for the six districts of Konkan region, including Mumbai, and surrounding areas on June 10 and 11. 
It may be recalled that last year, on August 29, following heavy rain in Mumbai, the commercial capital of India lost its speed.
Transport systems were unavailable in many parts of the city as trains and roadways were closed. Power was shut off to prevent electrocution. IMD had forecasted extreme rainfall on 29 August 2017, five to six days in advance but the government failed to respond quickly.
In 2005 also, Mumbai faced severe floods. That year had recorded 944 mm (37.17 inches) of rainfall within 24 hours on 26 July.
Recent research has indicated that these floods could be because of the climate change as it has led to huge instabilities in the monsoon winds carrying the moisture from the Arabian Sea, resulting in heavy rainfall over central India which could last for two to three days.
WATCH VIDEO: Mumbai: Met department issues heavy rain warning