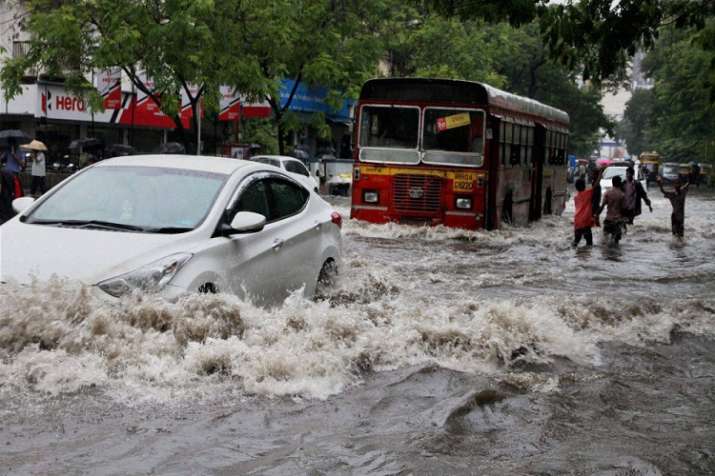 A day after several parts of Mumbai city received heavy rains accompanied by heavy rains and lightning, Skymet officials on Tuesday predicted that the city is likely to face intense rain over the coming weekend.
As per Skymet officials, the financial capital of the country could witness heavy downpour between June 6 to 12, which could be the worst spell since 26 July 2005, when Mumbai recorded 900 mm in a day.
"The intensity of rains would keep on increasing over Mumbai and by June 8, we expect a significant increase in the rains leading to few heavy to very heavy spells. These heavy rains may lead to flash floods and may cause traffic snarls and chaos in the day to day life. Thus, people are advised to take adequate measures and precautions to avoid struggling with the chaotic situation." 
#MumbaiRain #MumbaiMonsoon The period between June 6th and June 12, could be the worse spell since 26 July 2005, when Mumbai recorded 900mm in a day.

— Jatin Singh (@JATINSKYMET) June 4, 2018
"These spells would, in turn, be responsible for triggering the arrival of Southwest Monsoon which is anticipated by June 8," it added. 
As per Skymet Weather, the reason for these rains can be attributed to the cyclonic circulation that was persisting over South Konkan and Goa region. "As the system is still prevailing, we expect Mumbai to continue to record some more good rains today as well," added Skymet Weather in an article on its website. 
Normal life was thrown out of our gear as heavy rain accompanied by thunderstorm hit most parts of Maharashtra, particularly Mumbai and Thane, on Monday evening. The Indian Meterolgical Department on Monday predicted that rainfall activity is most likely to increase over parts of Maharashtra and Goa states from June 6, leading to advance of southwest monsoon over these areas during June 6 to June 8.
On Saturday, three people, including two children, died due to electrocution as pre-monsoon showers hit Mumbai. 
The mega-city and the western coast are prone to very heavy rains.
WATCH VIDEO: