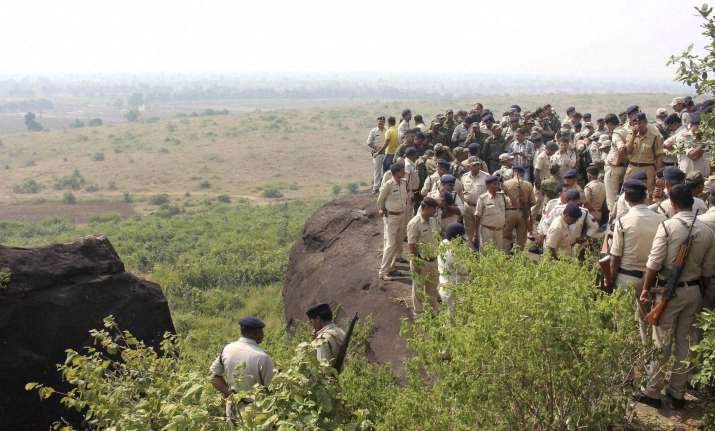 The post-mortem reports-of the eight SIMI terror suspects who were gunned down by the police force after they escaped from Bhopal central prison, have revealed that each of them was shot at least twice, some of them in the back.
The bullet wounds suggest that they were fired upon from all directions, most bullet wounds have been inflicted above the waist – on the chest and head. However the proximity of the firing is yet to be ascertained.
Meanwhile, the clothes of the slain activists have been sent for further testing.
The operatives of the banned Students Islamic Movement of India (SIMI) had managed to escape around 2-3 AM after killing a jail security guard and scaling the prison wall with the help of bed sheets. All the eight activists were killed by Bhopal Police at Malikheda on the city outskirts.
A video shot hours later, allegedly by a policeman after the prisoners were found on the outskirts of Bhopal in a thickly forested area, reveals a voice that asks why the shooting is being filmed; another is heard saying "put a bullet in his chest".
Police has said that the eight men who were killed resisted efforts to take them back into custody.
Opposition is raising doubts over the police version of encounter and now demanding a probe into the matter.
The suspects were identified as — Amzad, Zakir Hussain Sadiq, Mohammad Salik, Mujeeb Shaikh, Mehbood Guddu, Mohammad Kalid Ahmed, Aqeel and Majid.
The National Investigation Agency, the country's top counter-terrorism body, has been assigned to investigate the encounter.
According to Police, they were armed with four country-made pistols and had fired six rounds at police.
"They had fired six rounds at us. How they got guns we will have to probe," he said, adding that three cops who were injured in the alleged battle with the prisoners were injured "but with sharp weapons", Yogesh Choudhry, the Inspector General of Police in Bhopal said.