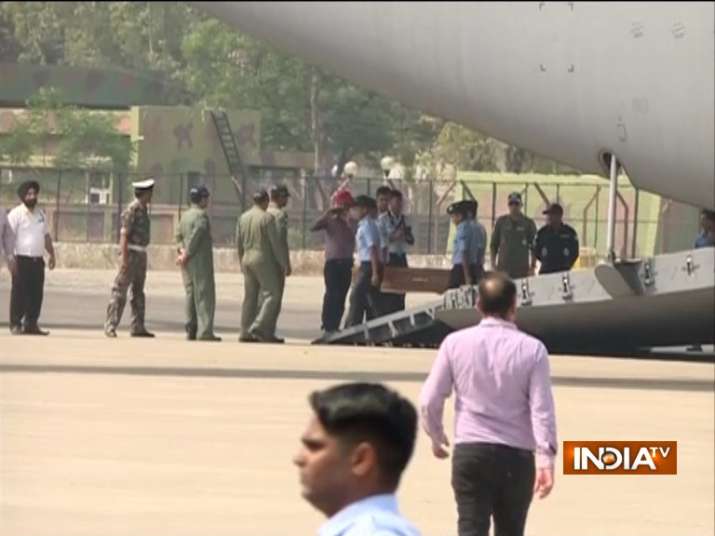 A special aircraft carrying the mortal remains of 38 Indians killed in Iraq arrived at the Amritsar International Airport today, officials said. 
The aircraft with the remains of the 38 slain Indians, out of 39, landed at Amritsar from Baghdad around 2:30 pm, they added. The presumed remains of one of those killed were yet to be positively identified. 
Union Minister of State for External Affairs V.K. Singh accompanied the mortal remains.
"We are thankful to the authorities in Iraq for the help (they rendered) to locate the victims and exhume the mortal remains. The government of India did its best to know about the missing Indians," Singh told the media.
Although 39 Indians were killed as the Islamic State took over Mosul in June 2014, the mortal remains of 38 were brought back as the identification of one body is still pending.
While the coffins of 31 victims -- 27 from Punjab and four from Himachal Pradesh -- were handed over to the respective authorities at the Amritsar airport here, seven coffins were shifted to another aircraft to be flown to West Bengal (3) and Bihar (4).
Punjab's Cultural Affairs Minister Navjot Singh Sidhu was present at the airport to receive the coffins, along with officials of the other states to which the victims belonged.
Sidhu said that an ex-gratia of Rs 5 lakh and job to one member per family will be given, and the current pension of Rs 20,000 will continue.  
The victims' families were told by officials not to open the coffins since the mortal remains had been exhumed from graves and could emit toxic gases. 
However, most have refused the direction and said that they would opt for a traditional cremation.
In the wake of the nationwide protests against the dilution of the SC and ST Prevention of Atrocities Act on Monday, the Punjab government had appealed to the demonstrators to allow the mortal remains to pass without hindrance.
External Affairs Minister Sushma Swaraj had informed Parliament on March 20 that all 39 Indian construction workers kidnapped in 2014 from Mosul have been killed.
The Minister had earlier said that she will not consider them dead unless there was proof in this regard, rejecting lone survivor Harjit Masih's claim that the captives were shot dead.
Masih had escaped from the clutches of the terror group in June 2014.
After Mosul was freed from the clutches of the Islamic State in July 2017, there was hope that the missing Indians would be found. 
However, Iraqi Foreign Minister Ibrahim al-Jaafari, during his India visit in July, said he was not sure if the men were alive or not.