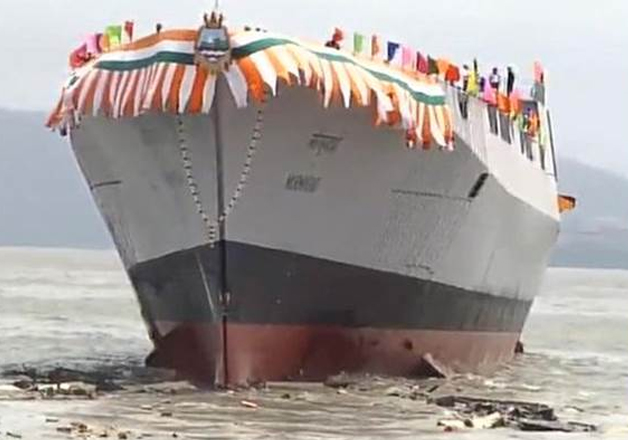 Indian Navy's guided missile destroyer, Mormugao was launched in Mumbai today.
Built by government-run Mazgaon Dock Shipbuilders Ltd (MDL), which also plans to outsource work for 10 blocks to include private ship building yard in the programme, Mormugao is the second ship of Project 15B and will be one of the most advanced warships of the force. 
The vessel belongs to Visakhapatnam class of ships. It has been named after the Mormugao port of Goa, also the home state of Defence Minister Manohar Parrikar.
Navy Chief Admiral Sunil Lanba's wife Reena launched the bedecked ship at a function at MDL here at 11.58 AM and it was released into the Arabian Sea for the first time. The vessel will undergo certain testings required by Indian Navy and would be subsequently known as INS Mormugao.
Four more such destroyers would be built and delivered by MDL during 2020-2024, the PSU said in a statement.
The first ship of the Visakhapatnam class was launched on April 20, 2015.
Mormugao has a displacement of 7,300 tonne with maximum speed of over 30 knots. The warship is equipped with surface- to-surface missiles, surface-to-air missiles and anti- submarine rocket launchers. It is also capable of carrying two anti-submarine warfare helicopters.
Addressing the function before the launch, Admiral Lanba said that the stealth destroyer can be compared with the best vessels in the world.
"This ship serves the Make in India drive of the country as it is indigenously built. It secures the sea in a better way. Contract for this ship was signed on January 2011. It can be compared with best ships in the world and has been developed by our own designers at DRDO as well as other government agencies and private companies," he said.
There is a pressing need to build more such ships and reduce the construction period of future vessels, the Navy chief said.
Admiral Lanba said since 1960 Indian Navy and MDL are building ships together.
MDL is the only dock in the country that has capability to build submarines.