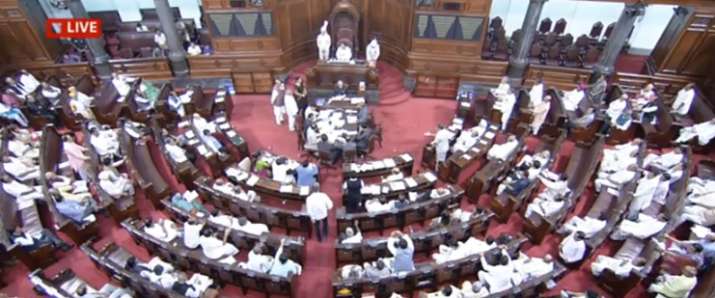 After failing in their attempt to trouble the government through a no-confidence motion on Friday, opposition parties were now looking to corner the government on Monday over the Alwar lynching incident. The BJP rivals were leaving no stone unturned to criticise the government over various mob lynching incidents reported from across the country.
​CPI leader D Raja has given suspension of business notice in Rajya Sabha over the Alwar lynching incident, while BJP MP Vinay Sahasrabuddhe has submitted a notice for suspension of business in the house for flood and other natural calamities due to heavy rain in several parts of country. On the other hand, TDP MP YS Chowdary has given notice in Rajya Sabha under rule 267 to discuss AP Re-organisation Act.
Recently, 28-year-old Akbar Khan was lynched by a mob in Rajasthan's Alwar district on suspicion of cow smuggling. Chief  Minister Vasundhara Raje had condemned the incident and had assured an investigation in the case. The probe in the case was on Sunday handed over to an additional SP rank officer by the IG of Jaipur range. Three arrests were made so far. 
Earlier on Friday, The NDA government defeated the no-confidence motion after a marathon debate that lasted for nearly 12 hours. When the division was held at 11.10 pm, the ayes for the no-confidence were 126 and the noes 325. 
Monsoon Session LIVE Updates:
1:45 pm: Congress to move privilege motion against Prime Minister Narendra Modi and Defence Minister Nirmala Sitharaman in Lok Sabha on Rafael issue
1:00 pm: Rajya Sabha adjourned till 2 pm
12 noon: Rajya Sabha proceedings resume. 
11:33 am: Saugata Roy asks a question in Lok Sabha on attempts to curb 'free thinking' in educational institutes 
11:32 am: We had been moving the no confidence motion for entire second half of budget session, finally the discussion took place but PM didn't bother to answer any of our question,we heard same statements,so nothing has changed for us, no option rather than to protest: TDP MP Jayadev Galla
11:19 am: Rajya Sabha adjourned till 12:00 noon after uproar in the house.
11:17 am:  TDP members trooped into the well of Rajya Sabha over their demand for special category status for Andhra Pradesh. 
11:15 am: The central investigation  agencies  have a role to perform under the constitution they are not instrument to use for the  govt of the day for political vendetta or persecute senior government officials ,there cannot be any discrimination: Anand Sharma in Rajya Sabha
11:05 am: ​CPI gives suspension of business notice in Rajya Sabha over the Alwar lynching incident, 
11:00 am: Lok Sabha, Rajya Sabha resume proceedings 
10:56 am: 
#Delhi: Congress MPs from Punjab protest over unemployment in front of Parliament #MonsoonSession pic.twitter.com/pyAEUgN5Lm

— ANI (@ANI) July 23, 2018
10:47 am: 
#Delhi: TDP MPs protest in front of Mahatma Gandhi statue in Parliament over special category status to Andhra Pradesh and implementation of AP re-organizing Act #MonsoonSession pic.twitter.com/5fxr8r0Ul9

— ANI (@ANI) July 23, 2018
10:36 am: The government is encouraging such incidents in the country. This government does not want the situation in the country to improve. We will raise the issue in the Parliament today: Mallikarjun Kharge, Congress on incidents of cow vigilantism
10:19 am: 
TDP MP YS Chowdary has given notice in Rajya Sabha under rule 267 to discuss AP Re-organisation Act. (File pic) pic.twitter.com/AO2RiUZ5JC

— ANI (@ANI) July 23, 2018