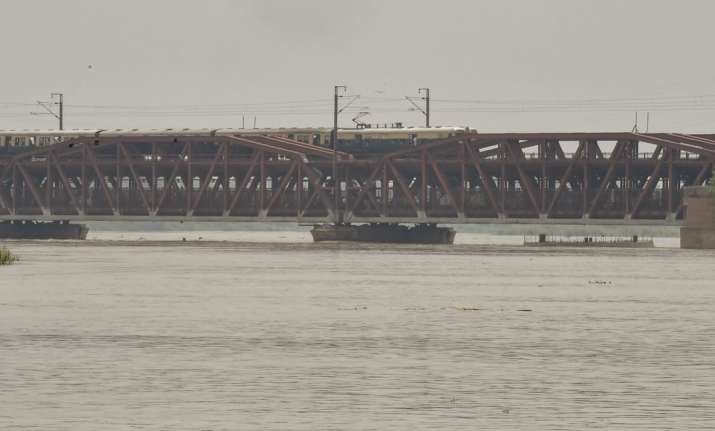 The vehicular movement on Old Yamuna Bridge in Delhi has been closed as the water level in the river continued to rise further up than the danger mark, breached yesterday. At least 1000 people have been removed from the river's flood plains to ensure no loss of life. 
Delhi Deputy Chief Minister Manish Sisodia took stock of the ongoing evacuation operation in the low-lying areas of the city and appealed to the people to move to safer areas.
The Yamuna was flowing at 205.5 metres this evening with the danger mark being 204.83 metres, the officials said.
The city government set up a flood control room and a round-the-clock emergency operation centre to monitor the river situation, they said.
An order banning movement of traffic on the bridge was issued after the flow in the Yamuna showed a rising trend, they said.
Delhi: District Magistrate (DM) of East Delhi, K. Mahesh, orders closure of traffic on the old Yamuna Bridge with immediate effect. pic.twitter.com/ZiIBge5BrQ

— ANI (@ANI) July 29, 2018
The water level in the river had reached 205.30 metres at 7 pm yesterday, prompting authorities to evacuate people from the low-lying areas. Delhi Chief Minister Arvind Kejriwal had held an emergency meeting with top officials to evaluate the situation.
"The government has established a flood control room in the office of the district magistrate, District (East) at L M Bund, Geeta Colony. A 24x7 emergency operation centre has also been set up for monitoring the flood situation," a senior official said. 
Meanwhile, Delhi Chief Minister Arvind Kejriwal held an emergency meeting with top officials of his government. 
In a meeting here, Kejriwal had said that all departments have been put on high alert.
"Haryana has released 5 lakh cusec water. Called an emergency meeting to discuss the situation. This water likely to reach Del by tomo eve. Wherever administration evacuating people, they r requested to cooperate. All depts put on high alert. For any flood related emergency, control room no is 1077 (sic)," he had tweeted yesterday.
The torrential rains have claimed 31 lives in Uttar Pradesh today. Fifty-eight people have died and 53 suffered injuries in rain-related incidents in UP since Thursday, officials said today. Till yesterday, the number of deaths stood at 27.
Eleven people lost their lives in Saharanpur, 10 in Meerut, six in Agra, four in Mainpuri, three each in Muzaffarnagar and Kasganj, two each in Amroha, Bareilly, Baghpat and Bulandshahr and one each in Kanpur Dehat, Mathura, Ghaziabad, Hapur, Rae Bareli, Jalaun, Jaunpur, Pratapgarh, Banda, Firozabad, Amethi, Kanpur and Pilibhit districts, they said.
About 23 cm of rainfall was recorded in Meerut, 13 cm each in Saharanpur and Muzaffarnagar, 10 cm in Bijnore, 8 cm in Moradabad, 7 cm in Etawah, 6 cm each in Hardoi and Baheri, 5 cm each in Kannauj, Gautam Budhnagar, Pilibhit and Bareilly since yesterday.
The weatherman has forecast "heavy to very heavy rains" in Sonebhadra, Mirzapur, Chandauli, Varanasi, Ghazipur, Ballia, Maunath Bhanjan, Azamgarh, Deoria districts, a spokesperson of the Relief Commissioner's Office said.
In Delhi, the Yamuna's water level crossed the danger mark, prompting authorities to evacuate people from low-lying areas.
In Himachal Pradesh's Kinnaur district, two pilgrims were swept away by flash floods triggered by heavy rains, a government spokesperson said.
The Himachal Police and the Indo-Tibetan Border Police have so far rescued 251 out of the 286 Kinner Kailash devotees who were stranded due to flash floods, he said. 
Meanwhile, the Union home ministry's National Emergency Response Centre said that 537 people have lost their lives in six states due to floods and rains in the monsoon season this year.
According to the NERC, 139 people have died in Maharashtra, 126 in Kerala, 116 in West Bengal, 70 in UP, 52 in Gujarat and 34 in Assam due to floods and rains.
Heavy rains have hit 26 districts in Maharashtra, 22 in West Bengal, 21 in Assam, 14 in Kerala and 10 in Gujarat and large swathes of UP so far.
In Assam, 10.17 lakh people have borne the brunt of rains and floods, of which 2.17 lakh have taken shelter in relief camps, while in West Bengal 1.61 lakh people have been marooned.
In Kerala, the floods have impacted 1.43 lakh people. 
(With inputs from PTI)