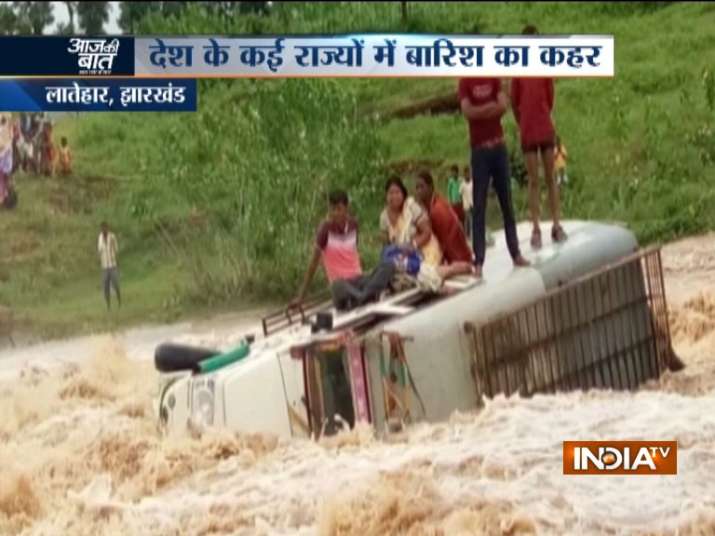 Monsoon rains continue to disrupt life in various parts of India. Overflowed water bodies in Uttrakhand, Madhya Pradesh and Jharakhand caused life threatening incidents, while landslides blocked roads in Himachal Pradesh. Meanwhile, 18 more people were killed in rain-related mishaps in Uttar Pradesh on Tuesday, taking the death toll to 44 since Saturday night.
Uttar Pradesh 
According to official reports, besides 44 persons losing their lives, 36 others were reported injured in different parts of the state during the period. Officials said three people each were killed in Gonda and Kushinagar districts; two each in Mirzapur and Bijnor; and one each in Bahraich, Sitapur, Meerut, Unnao, Auraiya, Sultanpur, Jaunpur and Etah since Monday night. The ongoing spell of heavy rains has disrupted life in different parts of the state and the meteorological department has forecast heavy rain at isolated places on Wednesday as well.
A Central Water Commission report said all major rivers in the state were in spate, including the Ganga, which was flowing well above the danger mark in Bulandshahr, Fatehgarh and Kanpur Dehat districts. Ramganga at Shahjahanpur; Sharda at Palia Kalan; Ghaghara at Elgin Bridge, Ayodhaya and Ballia; and Kuwano at Gonda were also flowing at very dangerous levels, officials said
Madhya Pradesh 
Four of a family including two children drowned after their car plunged into a river in Bhind district late on Monday night.  There were seven people in the vehicle but three of them were rescued by locals. The incident took place near a bridge on Besla river under Mehgaon police station of the district at around 11.45 pm on Monday night.
The deceased have been identified as Om Prakash Pateria, 40, his wife Lata Pateria, 36, their children Divya, 12 and Shirnarayan, 10, all residents of UP's Jhansi district. 
Watch video: 
Jharkhand 
A similar incident was reported from Jharkhand's Latehar, where a bus driver misjudged the intensity of river currents and plunged the car in flooded waters hoping to drive through, only to get stuck for over five hours. The seven passengers were rescued from bus' roof after several hours of operation by locals and authorities. 
Uttrakhand
Waterlogging due to heavy downpour and overflowing river today spelled trouble for the Nanda Devi's procession bound for Kailash yatra. The temple priest, who was leading the procession, alongwith followers and the Goddess' idol was rescued by a team of NDRF. The disaster management team made a human chain and used ropes to bring pilgrims back to safety. It took NDRF team to rescue the yatris from swollen river. 
Himachal Pradesh 
Shimla: Traffic movement near Indira Gandhi Medical College and Hospital disrupted today after heavy rainfall. #HimachalPradesh pic.twitter.com/xqZSX2kPv3

— ANI (@ANI) September 4, 2018
Rains spelled doom for Himachal's capital Shimla too. The landslide caused by heavy rainfall disrupted traffic movement near Indira Gandhi Medical College and Hospital as mud and stones rolled over to streets. The National Highway 5 was blocked due to th debris from the landslide, which caused a traffic jam for several kiolmetres. 
In Chamba, almost 50 metres of a road collapsed after heavy rains.