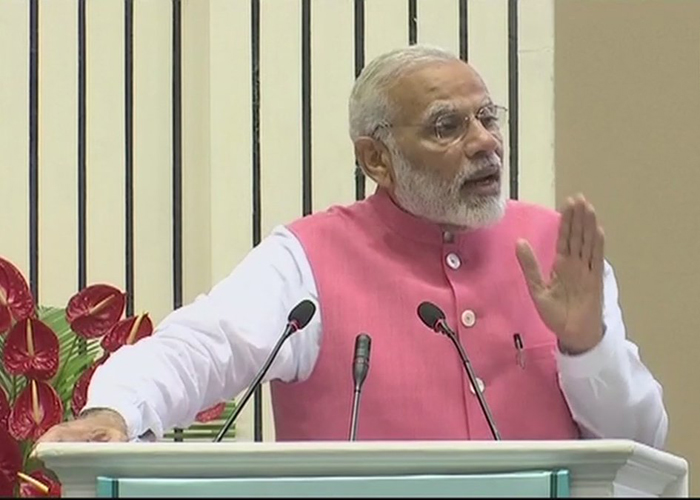 Addressing international conference on consumer protection for East, South and South-East Asian countries, PM Narendra Modi on Thursday said that the Goods and Services Tax (GST) is giving the country a new business culture and consumers will be biggest beneficiary of the new indirect tax regime.
The prime minister added that GST will boost competition between companies, which will decrease prices of goods and in turn will benefit poor and middle class consumers.
"Earlier, transportation by trucks would take five days but it has come down to just three three days now as checkposts on borders have vanished after the GST. It means transportation cost has gone down. This is going to be transferred to consumers," PM Modi said.
Taking a dig at those opposed to the GST, he said: "Some people may be taking advantage of the lack of awareness. However, the benefits will be transferred (to consumers) in days to come."
Modi said the government was in the process of enacting stringent legislation aimed at protecting consumers along with setting up a Consumer Protection Authority (CPA).
"Consumers' protection is this government's priority. We are in the process to bring a new law on consumer protection keeping in mind the need of the country and business practices here," Modi said.
"We are in the process of forming a Consumer Protection Authority, which will have executive powers, for immediate redressal."
The rules were being streamlined to solve consumer problems in less time and at less cost, he added.
"The stress is being given on consumer empowerment. Strict provisions are being contemplated against misleading advertisements," Modi said.
He said India was among the few countries which had enacted a law a year after the UN adopted guidelines on consumer protection in 1986.
PM NARENDRA MODI INAUGURATES INTERNATIONAL CONFERENCE ON CONSUMER PROTECTION: HIGHLIGHTS
#Government's efforts ensured inflation has been kept under check and the consumer saves money, says PM Narendra Modi
#Government's priority to consumer protection is in line with our resolve of New India, we'll change it to consumer prosperity on our way ahead.
#WATCH Live: PM at inauguration of International Conference on Consumer Protection for East, South & South-East Asi… https://t.co/zBOXzRcquw

— ANI (@ANI) October 26, 2017
#Consumer protection is one of the priorities of the government.
#New consumer protection act is being made, consumer empowerment will be major part of it and guidelines on misleading ads will be stricter.
#Consumer protection in an inseparable part of governance. Our Vedas have an extensive mention of consumer protection.
Delhi: PM Modi at inauguration event of International Conference on Consumer Protection for East, South & South-East Asian Countries. pic.twitter.com/945cypw2gi

— ANI (@ANI) October 26, 2017
#It is for the first time an international conference on consumer protection is being organised by India for countries of the region.
#The two-day conference based on theme 'Empowering Consumers in New Markets' against the backdrop of the new United Nations guidelines on consumer protection calling for greater international cooperation, provided a platform to discuss and deliberate upon different aspects of consumer protection.
#A total of 22 countries from east, south and southeast Asia, which account for a majority of the global consumers and share common challenges and experiences, participated in the event.
#"The conference will have six working sessions on the subjects of the United Nations Guidelines for Consumer Protection and Implementation, stakeholder participation in consumer protection, protection of online consumers, stakeholders participation, fostering consumer inclusion in financial services, protection of vulnerable groups of consumers and consumer empowerment through education," an official statement had said.