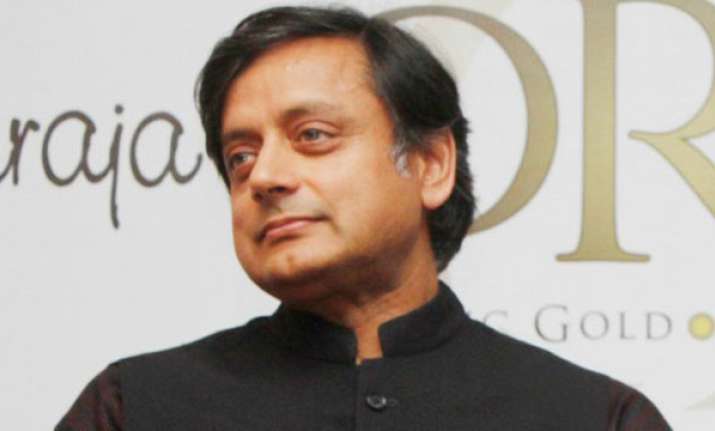 After wading into a controversy last Sunday by comparing Prime Minister Narendra Modi to "a scorpion sitting on a Shivling" and saying that "you cannot remove him with your hand and you cannot hit it with a chappal either", Congress MP Shashi Tharoor on Saturday called Modi a "hero on a white stallion with an upraised sword in his hand".
"Modi is a one-man government and everybody dancing to what he says," Tharoor said at an event organised by an industry body, adding India now has the "most centralised PMO" in history.
"Every decision is taken by the PMO (prime minister's office). Every file has to be sent to the PMO for approval," he claimed.
On the next parliamentary election, Tharoor said that there will be both pre-poll and post-poll alliances between the Congress and other opposition parties, but Congress president Rahul Gandhi "may not be" the prime ministerial face.
The Congress MP further said the upcoming Lok Sabha elections are important and that it will deny the Bharatiya Janata Party (BJP) a second term in power.
He said the decision on the prime ministerial face of the Congress alliance would be a collective one and "it may not be him (Gandhi). The Congress has a broader notion of a leader unlike the BJP. We had people like Pranab Mukherjee, P Chidambaram and others having tremendous track record".
"If free and fair elections are held among the Congress workers, Rahul Gandhi wins hands down," the Congress MP said, adding Gandhi is the unquestionable choice of Congress workers as their leader.
"We are having a top-down, over-centralised and inefficient government running the country and there is nothing positive in the Indian economy," Tharoor said as he continued to criticise the Modi government.
"Demonetisation was a bad idea implemented badly and GST was a good idea implemented badly," Tharoor said.
Regarding the Sabarimala temple controversy, Tharoor said, "These issues are being whipped up to distract attention from the real problems like oil price rise, Rafale deal, etc."
Speaking at another programme, Tharoor alleged the trend of erecting statues and raising the issue of Ram temple in Ayodhya were attempts to distract the masses from "failures" of the BJP government at the Centre.