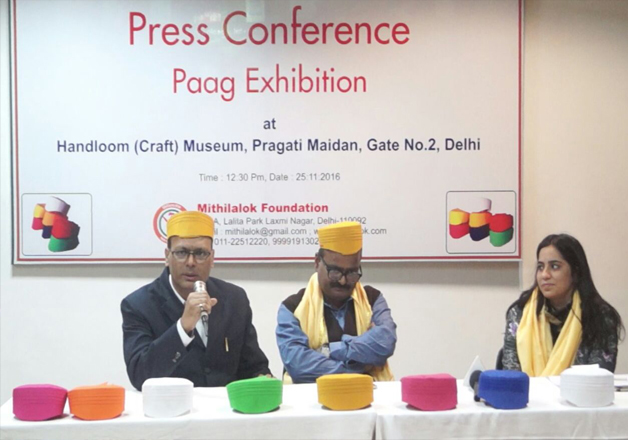 Turbans in India are tied not just for fashion but have great significance. In different hues, 'Paags' are on display at Crafts Museum here to enable visitors from across the world to gauge the salient feature of Mithila culture.
The exhibition of Paags (turbans), organised by Textiles Ministry and Mithilalok Foundation, is on display till November 30, highlights the significance of Mithila's age-old headgear.
"The main idea behind exhibition is to revive the age-old tradition of Mithila culture to the public at large and strengthen Indian culture," Mithilalok Chairman Birbal Jha told media here on Friday.
He presented a detailed analysis of modified "Paags" and stressed that turbans didn't only stand for India's composite culture but also symbolised social harmony.
Jha added: "The objective behind promoting 'Paag' is to strengthen people's awareness of their cultural legacy. Cultural renaissance in Mithila will help in all round development of the nation."
He said that he was motivated by his inner urge of giving back to the region where he was born and brought up.
"In contrast to the Western culture, acceptance of ethnic sensibility as identified with Paag will bolster India's composite culture and diversity," he said.
"India is the most culturally and ethnically diverse nation in the world. Regional aspirations go hand in hand with nation building," he added.
Craft Museum Deputy Director Nidhi spoke about the role being played by this organisation in assisting, reviving and conserving ethnic crafts like Paag.
"For the first time, we have an exhibition on Paag at Crafts Museum. Whenever needed, the museum will support in taking care of India's culture," she said.