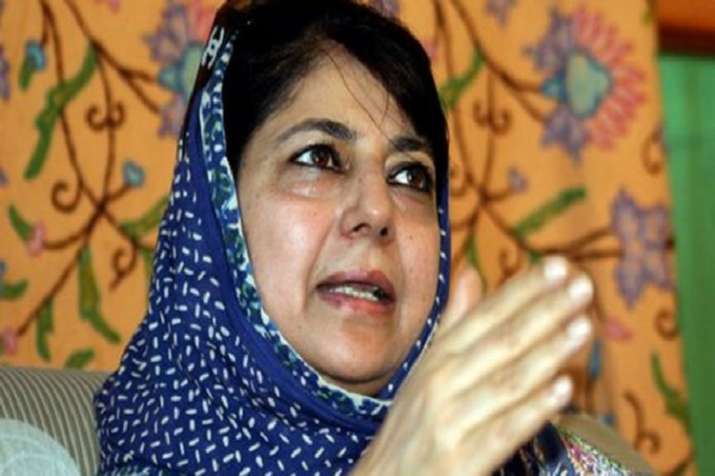 Dismissing the speculations about a possible PDP-Congress alliance to form the government in Jammu and Kashmir, former Chief Minister Mehbooba Mufti on Monday said that it was "utter fabrication".
"Amused at media speculations about a possible PDP-INC alliance to form the govt in J&K. Conjecture also includes an impending meeting between Sonia ji & I. This is utter fabrication & yet another unfortunate example of fake news," tweeted Mufti.
The BJP last month announced that it is walking out of the alliance with Mehbooba Mufti's People's Democratic Party (PDP) in Jammu and Kashmir. Announcing the party's decision, Ram Madhav said that the Mehbooba Mufti government has failed to control rising terrorism and radicalisation in the state despite all help from the Modi government at the Centre.
[You may also like to read] Monday Talk | 'Outsiders' in party need to be purified from 'Ganga Jal': BJP MP Shyama Charan Gupta
"It has become untenable for the BJP to continue in the alliance government in the state. Keeping in mind that Jammu and Kashmir is an integral part of India and in order to control the prevailing situation in the state, we have decided that the reins of power in the state be handed over to the governor," Ram Madhav said at a press conference in New Delhi.
However, opposition parties alleged that it is just a stunt by the BJP government before the Lok Sabha elections 2019.
The opposition parties saw BJP's decision to pull out of the ruling coalition with the PDP as an attempt to gain "lost ground" ahead of the 2019 Lok Sabha polls as commoners attached their hopes with the governor's rule to restore peace and ensure the development of the state. 
Catch all the latest news about Lok Sabha Elections 2019 here
Congress chief spokesperson Ravinder Sharma said the PDP-BJP government collapsed under its own weight. 
"BJP was under intense pressure from the entire nation because of its failure to deal with Jammu and Kashmir and Pakistan as was promised by it prior to coming to the power at the Centre. In order to save political space, the BJP withdrew support but not before pushing the state into a crisis," he said.
He said it was expected that the government will not last long because both the parties had compromised their election manifesto.
The state is presently under Governor's rule.