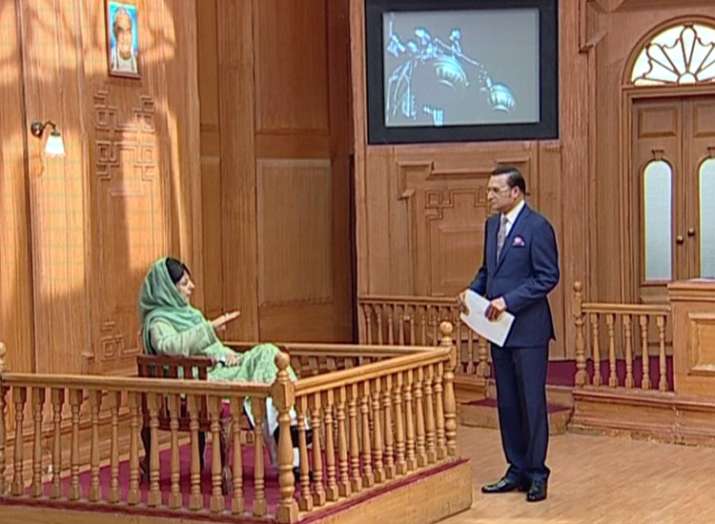 India TV Chairman and Editor-in-Chief Rajat Sharma today grilled former Jammu and Kashmir chief minister Mehbooba Mufti in his popular show "Aap ki Adalat". Mehbooba Mufti submitted her resignation from the chief minister's  post to Governor NN Vohra on June 19 after BJP general secretary Ram Madhav announced his party's decision to withdraw support from her government. BJP president Amit Shah later said that his party walked out of the coalition government as Mehbooba Mufti was discriminating against Jammu and Ladakh regions. Mehbooba Mufti presented her side of story in today's "Aap ki Adalat" show.
Highlights of Mehbooba Mufti in Aap Ki Adalat :
11:14 pm: I never indulged in corruption either as an MLA and or as Chief Minister of the state: Mehbooba
11:08 pm: I came into politics because the constituency was not getting a candidate, it was completely situational
11:07 pm: I and Mufti sahab used to work as a team with an understanding. I suffered an emotional trauma after the demise of Mufti sahab
11:06 pm: We need to rise to analyse the situation in Jammu and Kashmir like Vajpayee ji. This is the only way to restore peace
11:05 pm: We need to work towards uplifting the people of Jammu and Kashmir and make efforts to protect them
11:00 pm: It was unfortunate how the Kathua rape and murder case was politicised and used to create differences in the society
10:58 pm: I had issued directions to not dislocate the Gujjars. This was not done for political gains: Mehbooba
10:57 pm: The investigation in Kathua rape and murder case was conducted in a well-structured manner: Mehbooba
10:56 pm: I have talked the least about the rape and murder case of 8-year-old in Kathua, I understand the pain as I have two daughters: Mehbooba
10:55 pm: Everything is done for political gains, humanity is also something: Mehbooba
10:54 pm: I did everything I could have, for the welfare of Jammu and Kashmir: Mehbooba
10:53 pm: Most of the ministers and MLAs of BJP were from Jammu, so there was no question of any discrimination: Mehbooba
10:52 pm: We had mentioned our agendas in the agenda of alliance. Our plans were not hidden from the BJP: Mehbooba
10:51 pm: Joining hands with Modi ji was a historical decision and I believe that there are a very few people who can understand the ideologies of Mufti sahab: Mehbooba
10:50 pm: People who come to visit Jammu and Kashmir meet me and say that the state is much different from what they had known: Mehbooba
10:49 pm: Media has become the face of Jammu and Kashmir, whereas the reality is far different: Mehbooba
10:48 pm: Militants and separatists are guilty, but their children are not. Punishing Geelani sahab's family member is not justified: Mehbooba
10:47 pm: Bombing Pakistan will not resolve the problems that the valley is facing: Mehbooba
10:46 pm: I love this country a lot and this is why I raise objections to actions that are giving way to more killings in the state: Mehbooba
10:45 pm: People target Modi ji for his Pakistan visit. I say that he made efforts, but it would not work byjust one visit: Mehbooba
10:44 pm: We cannot leave everything to the police and the security forces: Mehbooba
10:43 pm: There is Governor rule in the state today and no one has tied the hands of police today. Everything should have been normal in the Valley under these conditions: Mehbooba
10:42 pm: I am only finding ways to restore peace in the Valley: Mehbooba
10:41 pm: The militants always come from across the border, no militant comes from within the country: Mehbooba
10:40 pm: The children of Salahuddin did not go to Pakistan with him, they are a part of India and it is our responsibility to protect them: Mehbooba
10:39 pm: The family members of the militants should be treated as the civilians of Jammu and Kashmir: Mehbooba
10:38 pm: Our security forces deal with the militants, but I am against the phenomenon of troubling the families of terrorists. They are not at fault: Mehbooba
10:37 pm: PDP has been constituted by ordinary people. We do not support any militants: Mehbooba
10:36 pm: We cannot arrest a person just because his name is associated to an organisation. The crimes against a person need to be proved for arrest: Mehbooba
10:35 pm: I had taken back the cases of stone pelters because most of those were first time offenders and were school children, who are the future of the country: Mehbooba
10:34 pm: The people of Jammu and Kashmir had high expectations from PDP: Mehbooba
10:32 pm: I have never been in favour of firings. The families of militants should not be troubled, it is not their fault if a member of their family has chosen to become a terrorist: Mehbooba
10:30 pm: An elected government always needs to think and act in favour of the local people: Mehbooba
10:28 pm: We need to persuade the external forces not to indulge into acts of violence in the state: Mehbooba
10:26 pm:Ceasefire is the only solution to the problems being faced by Kashmir today: Mehbooba
10:25 pm:People of our country are dying, Pakistanis are not dying. We are the ones who need to find a solution for the present situation in the Valley: Mehbooba
10:24 pm: We can say a lot of things while making speeches, but we need to talk in practical terms. I believe that war cannot be considered an option today: Mehbooba
10:23 pm:The idea of India is incomplete without the idea of Kashmir: Mehbooba
10:22 pm: Innocent civilians and Army jawans are being killed in Jammu and Kashmir. We all mourn it for two days and then forget about it: Mehbooba
10:21 pm: I had known journalist ShujaatBukhari. He had come to meet me: Mehbooba
10:20 pm: You need to feel the pain of the people living in Jammu and Kashmir in order to save them: Mehbooba
10:19 pm: How can we stop the killings in the Valley without talking to Pakistan?: Mehbooba
10:18 pm: The people of Jammu and Kashmir are not responsible for the current situation in the Valley. Pakistan has always played a role in that: Mehbooba
10:18 pm: I once asked Vajpayee ji "why don't you talk to Pakistan?". He replied "what should we talk? All they want is Kashmir.": Mehbooba
10:16 pm: Examples of brotherhood and unity are still alive in Jammu and Kashmir: Mehbooba
10:14 pm: Mufti sahab always wanted to take forward the ideology of Vajpayee ji and this is why he joined hands with Modi ji: Mehbooba
10:12 pm: Kashmir today has become a land of killings. Cross-border firing and surgical strikes are not going to do good to anyone: Mehbooba
10:10 pm: The time, when Mufti saheb was J&K CM and Vajpayee jee was PM, was a golden era. It was a time when the Central and the state govts coordinated well for bringing peace to the state
10:07 pm: Ceasefire was done in favour of the civilians, in an attempt to put a break on the blood-shelling in the Valley. I wanted the ceasefire to continue even after Ramzaan: Mehbooba
10:05 pm: In the last two years, if there was one good step that was taken in Jammu and Kashmir, it was the ceasefire: Mehbooba Mufti
10:04 pm: It was introduced for bringing relief to the common man.
10:03 pm: Ceasefire was not meant for militants. It was expected that they will sabotage it.
0:02 pm: India TV Chairman and Editor-in-Chief starts putting questions to Mehbooba Mufti on behalf of common man.
10:00 pm: Former Jammu and Kashmir chief minister Mehbooba Mufti arrives in "Aap ki Adalat" show
Meanwhile, Mehbooba Mufti's party PDP is facing rebellion which is gaining momentum with each passing day. Till now, six legislators of the party- five MLAs and one MLC- have publicly spoken against Mehbooba. They have alleged that the former chief minister didn't have time to meet them.
On Friday, PDP MLC Yasir Reshi came out in support of Pattan MLA and former minister Imran Ansari and his MLA uncle from Zadibal, Abid Ansari, who have accused PDP president Mehbooba Mufti of nepotism and incompetence during her tenure as chief minister of the coalition government with the BJP. 
Tangmarg MLA Abbas Wani, Noorabad MLA Abdul Majid Paddar and Baramulla MLA Javaid Beigh have also thrown their weight behind the Ansaris.