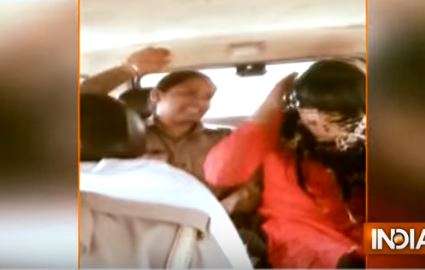 For allegedly misbehaving with an inter-faith couple, three cops were suspended in Meerut district of Uttar Pradesh.
Based on a video footage, the actions against cops were taken. The video shows the police team misbehaving with the couple. The clip went viral.
Superintendent of Police Ran Vijay Singh identified the suspended police personnel as Head Constable Salek Chand and constables Neetu Singh and Priyanka.
Footage shows a Dial 100 police team asking objectionable, religion-related questions from the couple and making woman constable Priyanka beat up the female, a Meerut Medical College student.
On Sunday, the cops had swung into action after a phone call from Vishva Hindu Parishad​ (VHP) activists that a woman student had been seen going inside a hotel room with her boyfriend of a different faith.
On VHP activists' complaint, the police had apprehended the inter-faith couple.
Finally, the couple was released as both were adult.
WATCH VIDEO: Two male, one woman cops suspended for misbehaving with inter-faith couple