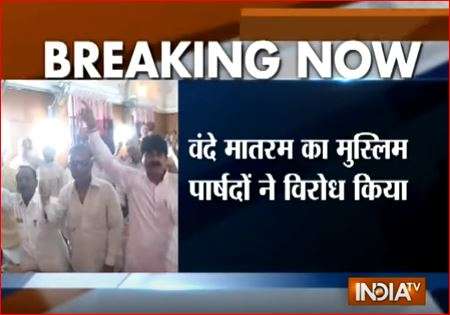 Seven corporators of the Meerut Municipal Corporation, all belonging to the Muslim community, were allegedly barred from participating in Nagar Nigam proceedings on Tuesday after they refused to sing 'Vande Mataram' before the start of the day's business.
Meerut Mayor Harikant Ahluwalia has also issued orders that  every Nagar Nigam board member will have to sing 'Vande Mataram' or he will not be allowed to enter the board meeting room or participate in its proceedings.
On Tuesday, the seven  corporators  left the meeting hall soon after the rest of the members started singing Vande Mataram before the start of the proceedings.
When they returned, the Mayor allegedly refused to let them in.
Some of other board members started shouting, "Hindustan mein rehna hai to Vande Mataram kehna hai (If you have to live in India, you will have to say Vande Mataram)." 
The seven corporators protested when the mayor informed them of the decision for not allowing entry to anybody who refuses to sing the national song.
"We have almost 90 corporators, of whom 18 are Muslims. Only a handful of people have an issue with Vande Mataram; the rest (want to) sing it," Mayor Harikant Ahluwalia told The Indian Express.
"It was the decision of everyone in the session that those who boycott the national song should be boycotted. I just agreed with (the demand of) my people," he added.
One of the corporators who refused to sing "Vande Mataram" later said that singing the national song should be optional and nor mandatory. 
"The mayor ordered us to sing Vande Mataram and threatened that he will not let us sit in the Sadan (House) if we do not follow his directive. It is up to us whether we will sing it or not. The orders were delivered rudely, so we decided to boycott the proceedings," Afzal Saifi, one of the corporators who boycotted the session, told The Indian Express.