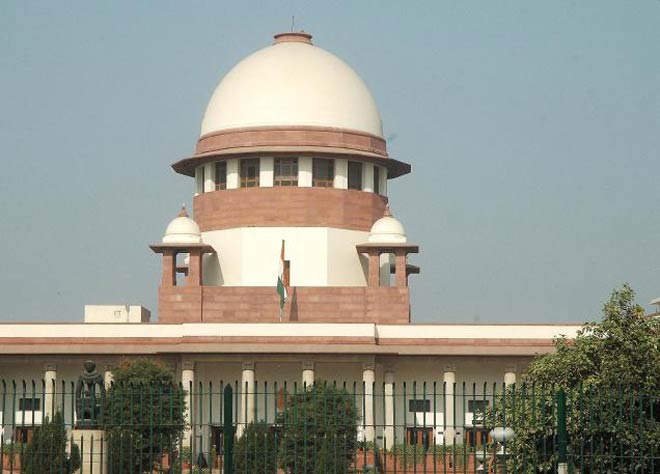 The Supreme Court on Tuesday dismissed a plea seeking Special Investigation Team (SIT) into an alleged case of bribery in the name of judges, saying that a "due process must be followed." 
A three-judge SC bench held that the allegations made by petitioner Kamini Jaiswal and her counsel Prashant Bhushan against Chief Justice Dipak Misra were "derogatory and contemptuous" but desisted from initiating contempt proceedings "in the hope that goodwill will prevai." 
The bench, comrising justices RK Agarwal, Justice AK Mishra and Justice A M Khanwilkar, said dismissed the plea seeking SIT probe into possible role of sitting HC and SC judges on grounds of impropriety like "forum shopping" and contempt.
The bench on Monday had reserved the order after a 90-minute hearing in which advocate Kamini Jaiswal and her lawyers including senior advocate Shanti Bhushan and counsel Prashant Bhushan were questioned for filing two identical petitions with similarly-worded averments and annexures.
During the hearing, activist advocates, who pressed hard for an SIT probe into an alleged case of bribery in the name of judges, faced a barrage of questions from the bench which said they were indulging in "forum shopping" and "impropriety".
The apex court said it would pronounce its order on Tuesday on whether such a plea was maintenable or not.
The plea claimed that allegations of bribery were levelled for securing settlement of cases relating to medical colleges in which a retired Orissa High Court judge, Ishrat Masroor Quddusi, is an accused.
"We are on propriety. Can two similar worded petitions, one filed by 'Campaign for Judicial Accountability' and the other by advocate Kamini Jaiswal, also a member of the same organisation, be filed? We are serious about this, as it is forum shopping because you wanted the petition to be listed before court number 2," the bench said.
'Forum shopping' is a practice adopted by litigants to get their cases heard by a particular court for a favorable judgement.
They were reminded by the bench that they were stressing that the matter should be heard by a bench headed by Justice J Chelameswar in court number 2.
"Repeated mention of Court 2 is not good, but your insistence that the matter be listed only before Court 2 is itself forum shopping. Although judges of this court are gems of the institution," Justice Mishra said.
The bench said that making serious allegations against the CJI and saying that he should not pass orders, either on administrative or on judicial sides, would amount to contempt.
"It has been held in series of judgements that this kind of allegations are per se contempt. Demanding that the matter be listed before a particular bench and hearing during the course of day, is itself forum shopping," Justice Mishra said.
The bench also took umbrage against them for repeatedly seeking recusal of Justice Khanwilkar from hearing the matter.
Justice Khanwilkar was categorical in maintaining that he was not in favour of recusing himself from hearing the matter.
At the outset, the bench asked whether filing of two identical worded petitions by members of the same organisation 'Campaign for Judicial Accountability' would not amount to impropriety or demanding listing of the pleas before a particular bench would not tantamount to 'forum shopping'.
Advocate Kamini Jaiswal, who is a member of the organisation, had also filed a separate petition after the petition of the NGO got listed for hearing before the bench other than that of the bench headed by Justice Chelameswar 
When Shanti Bhushan was making a submission identical to what was made on November 10 before a five-judge Constitution headed by Chief Justice Dipak Misra, the three-judge bench said it was a settled law that FIR cannot be lodged against a sitting judge without prior sanction of the competent authority.
The CJI's bench had then said the Chief Justice was "the master of roster" and had the prerogative to allocate matters before any bench.
The high-voltage hearing in a jam-packed courtroom saw Attorney General K K Venugopal lambasting the activist advocates saying their petition had already cost the reputation of the institution and led to grudges among sections of advocates.
Venugopal, who had to struggle hard to enter the packed courtroom and finally came in through the entry route of the judges, said casting aspersion on the CJI itself was wrong.
Additional Solicitor General Tushar Mehta, appearing for Centre, said the petition was "clear, conscious and deliberate attempt to malign the reputation of institution and judges".
The bench said the constitution bench in 1991 held that there cannot be any probe and no FIR can be lodged against sitting judges without the competent authority's approval.
Shanti Bhushan, appearing for Jaiswal, said the constitution bench order of November 10 was illegal on two counts, firstly under Article 144 of Constitution, all civil and judicial authorities including CJI Dipak Misra is bound by the order passed by Justice J Chelameswar.
Secondly, he said under Aricle 142 of Constitution, the apex court can pass any order for doing complete justice in any cause or pending matter.
Shanti Bhushan submitted that the inherent powers under Article 142 to do complete justice was only available to the apex court and not even to High Courts. And considering the seriousness of the matter, Justice Chelameswar was right in setting up the five-judge constitution bench, he said.
The bench said it will answer all the questions on whether CJI can allocate matters, which bench will hear the petitions, whether a judge should recuse or not and whether the court should hear the present petition or not.
Shanti Bhushan said the court was bound to answer all the questions and Constitution does not say only Chief Justice of India has power to constitute benches.
He said the case pertained to a medical college matter which was heard by a three-judge bench headed by CJI and (referring to Justice A M Khanwilkar) one of the member of that bench is sitting in this bench.
The senior advocate further said that FIR says that money was collected in the name of judges to get a favourable order in the matter which was heard by a bench of CJI.
The judge further questioned senior advocate Shanti Bhushan to specify what was the necessity to file the second petition when the first one was already listed before the bench of Justice A K Sikri.
Advocate Prashant Bhushan, who also appeared for Jaiswal, tried to justify filing of second petition and said after the first petition was filed and was directed for listing on November 10 in court-2, he had got a call from registry that the matter will be listed in some other bench as CJI has issued prior order in this regard.
The bench said although that issue was now over as to who can a constitute a bench or a constitution bench and the only questions are properiety, merit and whether the plea was maintainable or not.
Advocate Prashant Bhushan then mellowed down his argument and said there were no direct allegations against CJI in the FIR and was only a reference to the matter heard by CJI.
(With PTI inputs)