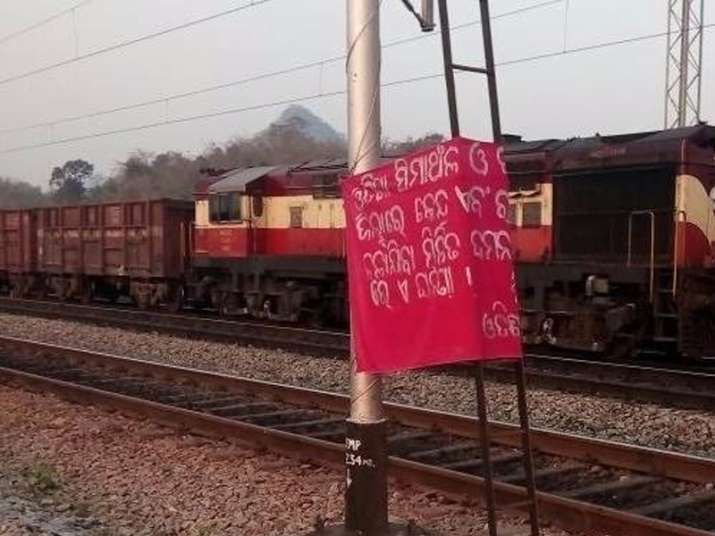 Ahead of Prime Minister Narendra Modi's visit to Odaisha for the BJP's National Executive meeting scheduled on April 15 and 16, Maoists blew up the Doikalu Railway station in Rayagada district in the wee hours today.
As per information, a group of 20 heavily armed Maoists entered the premises of the station at around 1:30 am. They first detained Station Master SK Parida and token porter Gobind Hikaka. Later, they ransacked Parida's office and planted a bomb here causing an explosion.
Maoists triggered another blast in the engine of a goods train, which was stationed at that time. Doikalu Railway station is located 10 km from Muniguda – a block in the district.
Rayagada SP K Siva Subramani, who rushed to the spot soon after he learnt about the incident, confirmed that damage was caused to the engine and the train.
Movement of trains through Daikallu, located between Rayagada and Titlagarh stations, were disrupted for a brief period. 
In a statement issued here this morning, the East Coast Railway said that Maoists also snatched away the walkie-talkie of the Station Master before fleeing. 
The station staffs are safe, the statement added.
A team of East Coast Railway reached the spot and are looking into the matter, it said, adding that Maoists left behind handwritten posters opposing the policies of Narendra Modi government at the Centre and Naveen Patnaik regime in Odisha. 
In one of the posters, the attackers opposed the proposed two-day visit of the Prime Minister to Odisha on April 15 and 16 to attend BJP's National Executive meeting. 
Some posters also criticised non-Odia officers being appointed to senior posts in the state police as well as administration.
Director General of Police KB Singh said combing operation has been launched in the area by CRPF and Special Operation Group (SOG) personnel after the incident. 
Railway officials said that movement of goods trains with restricted speed had resumed after security clearance, while steps are being taken for resumption of express and passenger trains soon.
The BJP is slated to hold a two-day long National Executive meeting in Bhubaneswar from April 15. PM Modi, BJP chief Amit Shah, several senior leaders including LK Advani and CMs of BJP-ruled states will be attending the meet.