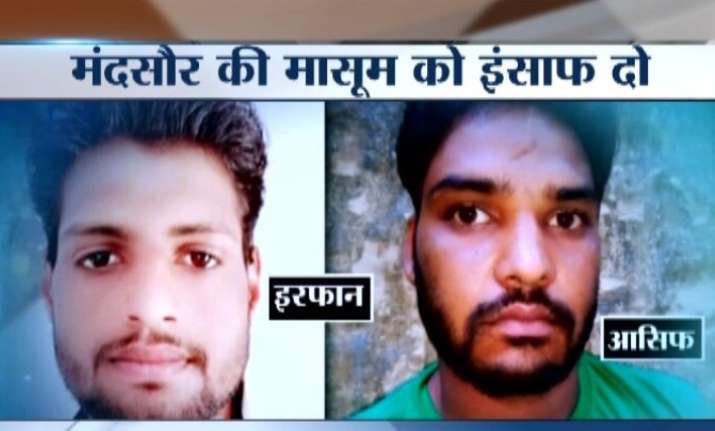 'My son is an alcoholic, hang him if he is guilty', the father of one of the key accused in the gruesome rape case of an eight-year-old in Madhya Pradesh's Mandsaur told India TV. 
The police on Saturday arrested the two accused Irfan alias Bhaiyu (20) and Asif (24) for allagedly raping the minor girl on June 26. the duo has been booked under relevant sections of the IPC and the Protection of Children from Sexual Offences (POCSO) Act. 
Talking to India TV, Irfan's father Zaheer confirmed that his son and Asif were friends and frequently hung out together. 
"My son was an alcoholic and kept the wrong company. I don't think he is innocent. If he is found guilty he should be given death penalty," Zaheer, who is also a father of five daughters, said. 
Irfan's father said he was present during Asif's interrogation at the police station. In front of me, Asif confessed to the cops, that first he sold Irfan's mobile, then he got drunk with that money and got into a squable. There were blood marks on his clothes, he said, adding that he also recognised Asif's shoes in the CCTV footage. 
Meanwhile, the doctors at MY hospital, where the rape survivor is being treated, said that her condition continues to improve. The girl is talking to her parents and started taking the food orally. A team of doctors from Mumbai also visited the hospital to check on the survivor.
Earlier on Saturday, the father of the  rape survivor said no to monetary compensation granted by the Madhya Pradesh government and has sought the death penalty for the accused. "I do not want any compensation. I just want the accused to be hanged," the father told media on Saturday after a BJP minister announced that Chief Minister Shivraj Singh Chauhan has transferred Rs 5,00,000 in his account.
"CM has transferred Rs 5,00,000 in her father's account. Hope police finds the accused very soon so that can be hanged. State govt will take care of her health and education," Archana Chitnis, Women and Child Development Minister said after visiting the girl in the hospital on Saturday.  
The girl was raped on June 26 after being abducted from outside her school by two men. She suffered grievous injuries to her neck, face, head and private parts and was admitted to MY hospital in the capital on June 27.