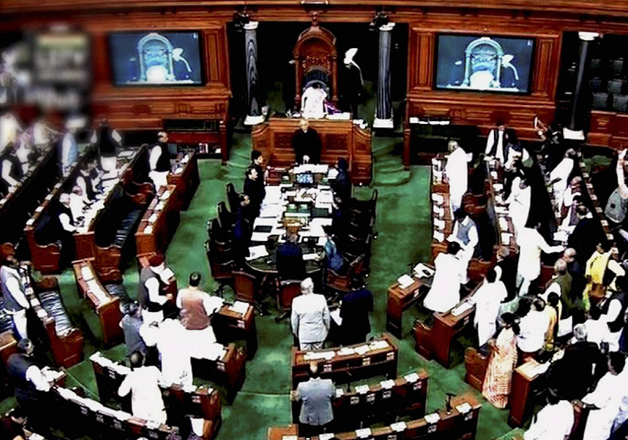 A man tried to jump off the Lok Sabha visitors' gallery into the House chamber today, allegedly to protest against the demonetisation drive by the government.
The man, identified as Rakesh Singh Baghel, hails from Madhya Pradesh's Shivpuri district. He had entered Parliament on the reference of BJP MP from Bulandshahr, Bhola Singh.
Baghel tried to jump into the House around 11.20 am after Lok Sabha Speaker Sumitra Mahajan adjourned the proceedings till noon.
Suddenly, an opposition member, who had earlier trooped into the Well, pointed out that security personnel in the Visitors' Gallery were grappling with a person whose right foot was hanging from the wooden fence.
He was caught and lifted up by about 4-5 alert personnel. It then transpired that the man had tried to jump into the Lok Sabha Chamber.
The man was caught and then bundled out. The other visitors were then guided out of the gallery which is right opposite the press enclosure.
Delhi Police personnel in plain clothes are usually seated in the front rows of the Visitors' Gallery to prevent such incidents.
While the Speaker had left, the Prime Minister was not in the House. Senior ministers including Arun Jaitley and leaders like Mulayam Singh Yadav were in the House when the incident took place.