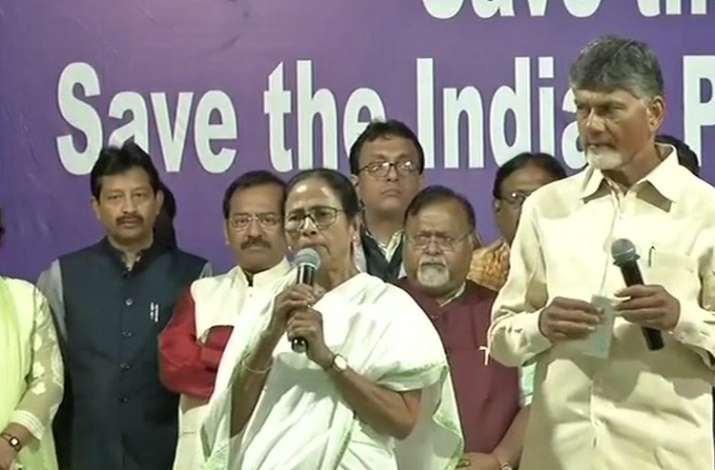 West Bengal Chief Minister Mamata Banerjee ended her 46-hour-long dharna (sit-in) in Kolkata on Tuesday evening but added that her fight against the 'one man' government in New Delhi will continue.
"This dharna (Save the Constitution) is victory for the Constitution and democracy, so, let us end it today," Mamata announced from the stage put up in Kolkata's Metro Channel area. Mamata's decision to end her dharna came minutes after Andhra Pradesh CM Chandrababu Naidu met her at the protest site. 
Accusing the Centre of trying to control all agencies, the Trinamool Congress chief said that PM Modi should resign from and go back to Gujarat.
Earlier in the day, the Supreme Court directed Kolkata Police Commissioner Rajeev Kumar to appear before the CBI and "faithfully" cooperate into the investigation of cases arising out of the Saradha chit fund scam, while it making it clear that he will not be arrested.
The apex court said that "to avoid all unnecessary controversy", it is also directing the Commissioner of Police to appear before the investigating agency at a neutral place in Shillong, Meghalaya, on such dates as may be fixed by the probe agency.
Also Read: What is Saradha scam? How did India's biggest Ponzi scheme unravel
While observing that there is "no reason why he (Kumar) will not make himself available for the investigation," a bench headed by Chief Justice Ranjan Gogoi said, "We make it clear that no coercive steps including arrest shall be taken against the Commissioner of Police".
WATCH: What is Saradha Scam?
Mamata Banerjee had rushed to Kolkata Police Commissioner Rajeev Kumar house on Friday evening after CBI sleuths arrived for quiz the top cop in connection with the Saradha scam. She then sat on a dharna against the CBI move while accusing the Centre of using the central agency to target the Opposition.
WATCH: Mamata calls off dharna in Kolkata