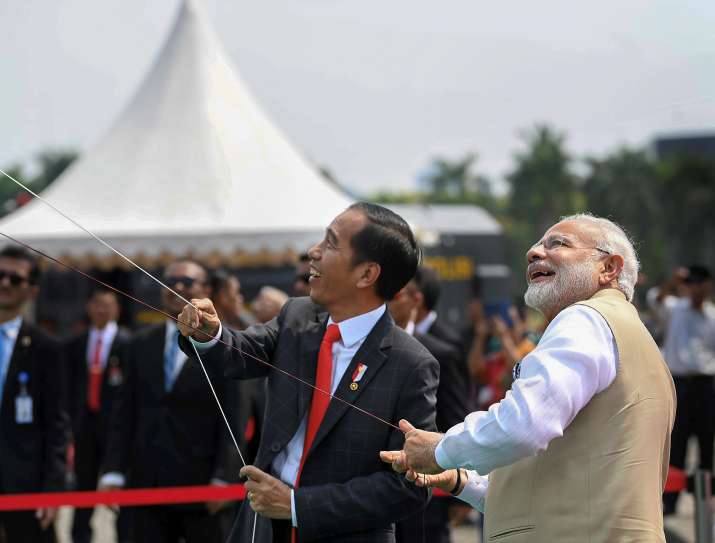 Prime Minister Narendra Modi today met his Malaysian counterpart Mahathir Mohammad to personally congratulate him on his stunning election victory and the two leaders had "productive discussions" on bolstering the bilateral strategic ties. 
​Modi, who arrived here on a whirlwind visit on the second leg of his three-nation tour, met 92-year-old Mahathir in his office at Perdana Putra Complex, Putrajaya. 
"Glad to have met Tun Dr. Mahathir Mohamad. I thank him for the warm welcome. We had productive discussions on further cementing India-Malaysia ties," Modi tweeted in both Malay and English. 
The two leaders discussed ways to boost economic and cultural relations between India and Malaysia. 
Modi is among the first world leaders to meet Mahathir, who became the world's oldest elected leader when his Pakatan Harapan Opposition alliance registered a stunning victory over the Barisan Nasional coalition, which had ruled Malaysia since 1957. 
Mahathir, who had retired from the post of prime minister in 2003, after 22 years at its helm, was sworn-in again as Malaysia's premier on May 10. 
This is the first meeting between Modi and Mahathir. Modi last visited Malaysia in November 2015. 
External Affairs Ministry Spokesperson Raveesh Kumar said the two leaders had a productive exchange of views on strengthening the strategic partnership between India and Malaysia. 
During the meeting, Prime Minister Modi congratulated Dr. Mahathir on assuming the post of Prime Minister of Malaysia, he added. 
During his brief stopover, Modi also met with Deputy Prime Minister Dr Wan Azizah Wan Ismail and her husband Anwar Ibrahim. 
"Deputy Prime Minister of Malaysia Dr. Wan Azizah called on PM @narendramodi during PM's brief stopover in Kuala Lumpur. Good discussion took place to take our relationship to newer heights. Former Deputy Prime Minister Anwar Ibrahim was also present," Kumar tweeted. 
Malaysia and India have close ties with culture and history as well as in various key areas, particularly infrastructure development, education, tourism and defence. 
India is Malaysia's largest trading partner in South Asia with total turnover of RM 61.43 billion (USD 15.44 billion) in 2017. 
Earlier, the Prime Minister's Office said that Modi will be discussing aspects relating to India-Malaysia cooperation with Mahathir. 
"Malaysia is a strategic partner and a priority country in our Act East Policy," Kumar said. 
Modi had announced in New Delhi that on his way to Singapore, he will make a brief halt in Malaysia to meet Mahathir and congratulate the new Malaysian leadership. 
After concluding his whirlwind trip, Modi left for Singapore where he will deliver a keynote address at the Shangri-La Dialogue, an annual security meet, on Friday.