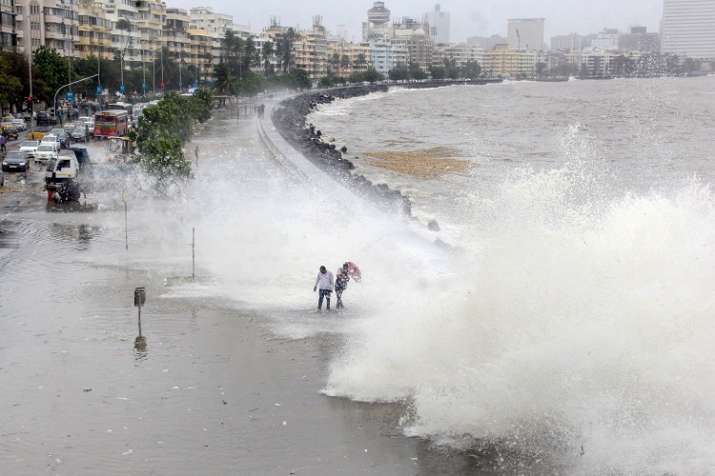 The Indian Meteorological department on Sunday predicted heavy downpour in the districts of Nadurbar, Dhule, Jalgaon and Nasik for next three days. Meanwhile, heavy rains continued to lash Palghar district on Sunday.
According to National Disaster Management Authority, the IMD has predicted 19 mm rainfall in Vasai-Virar region. The weather agency has also warned people in the city and advised them not to move out of their homes unless some necessary work. Meanwhile, keeping in mind the risk of loss of life due to people gathering near waterfalls, section 144 has been imposed in 15 waterfalls of the Palghar district.
Earlier on Friday, Palghar MP Rajendra Gavit had urged the state government to declare 'heavy flood' situation in the Vasai-Virar region so that compensation packages can be worked out for residential and commercial losses due to natural calamity.
Heavy rain continues to lash Palghar in #Maharashtra pic.twitter.com/9FRxs4tsLi

— ANI (@ANI) July 15, 2018
Earlier in the day, Mumbai witnessed the much-predicted high-tide at around 1:49 pm. Several parts of Mumbai city and the adjoining areas like Thane, Kalyan, Dombivli witnessed continuous rains since morning.
The weatherman said that the wet spell was expected to continue till Monday.
Meanwhile, Maharashtra's Thane district has received 11,446.54mm of rainfall this monsoon which is 66 per cent of the rainfall it received during the entire monsoon season last year, a senior district official said on Sunday.
Thane has received 11,446.54mm rainfall this season so far as against 8,613.50mm in the same period last year, 
district information officer Aniruddha Ashtaputre said on Sunday. 
The district had received 17,150.10mm of rainfall in the entire monsoon season last year, the official said. 
Thane had already received over 66 per cent of the entire rainfall it got during last year's monsoon, he said. 
He said that water levels of dams in the district were rising and some of their gates would need to be opened soon. 
The gate of Modak Sagar Dam was opened at around 3pm  on Sunday and its storage level was reaching the overflow mark, Ashtaputre said. 
The storage level of Bhatsa Dam stood at 125.65 million cubic metres (mcum), or 58.77 per cent of its storage capacity, and its gates would be opened when the water capacity reached 134 mcum or 78 per cent of the storage capacity, he informed. 
"The gates will be opened when it reaches 78 per cent. Villages in the vicinity will be informed in advance and tehsildars will receive official communication before the water is released," he said. Giving information about other dams in the district, he said that level of water in Barvi Dam stood at 64.72 metres and its overflow mark was 68.60m. It currently has 164.99 mcum 
of water which was 70.79 per cent of the dam's storage capacity. 
The Pise Dam also received heavy rainfall, he said. 
WATCH VIDEO: