Follow us on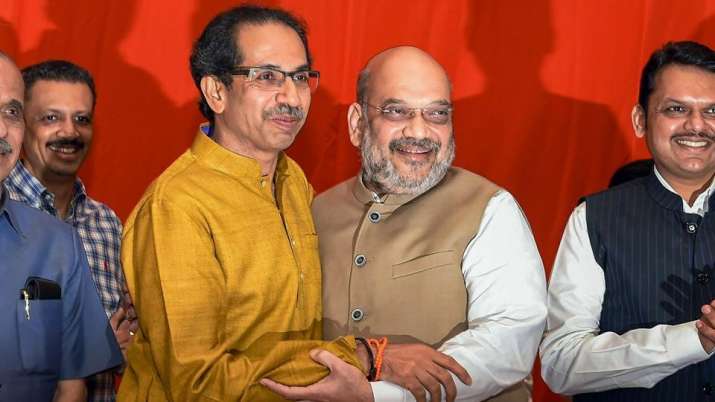 The Bharatiya Janata Party (BJP), led by Prime Minister Narendra Modi, was on Thursday set to retain power for another five years after making a sweep of the Lok Sabha battle and mauling the opposition.
So stunning was the BJP's showing that it bulldozed the opposition even where it had looked strong, virtually sweeping entire states in northern India and even beyond and making unprecedented inroads in Trinamool Congress-ruled West Bengal.
The story in Maharashtra was no different. BJP in coalition with its main ally in the state Shiv Sena bagged 41 out of 48 seats..
Here is the full list of the constituencies of Maharashtra and the winning candidates from each constituency.
Maharashtra
| | | |
| --- | --- | --- |
| Constituencies | Political Party | Winning Candidates |
| Wardha | BJP | Ramdas Chandrabhanji Tadas |
| Nagpur | BJP | Nitin JJairam Gadkari |
| Bhandara-Gondiya | BJP | Sunil Baburao Mendhe |
| Gadchiroli-Chimur | BJP | Ashok Mahadeorao Nete |
| Chandrapur | INC | Balubhai Alias Suresh Narayan Dhanorkar |
| Yavatmal-Washim | Shiv Sena | Bhavana Pundlikrao Gawali  |
| Buldhana | Shiv Sena | Jadhav Prataprao Ganpatrao |
| Akola | BJP | Dhotre Sanjay Shamrao |
| Amravati | Independent | Navnit Ravi Rana |
| Hingoli | Shiv Sena | Hemant Patil |
| Nanded | BJP | Prataprao Patil Chikhalikar |
| Parbhani | Shiv Sena | Jadhav Sanjay Haribhau |
| Beed | BJP | Pritam Gopinathrao Munde |
| Osmanabad | Shiv Sena | Omprakash Bhupalsinh Alias Pawan Rajenimbalkar |
| Latur | BJP | Sudhakar Tukaram shrangare |
| Solapur | BJP | Jai Sidheshwar Shivachary Mahaswamiji |
| Jalgaon | BJP | Unmesh Bhaiyyasaheb Patil |
| Raver | BJP | Khadse Raksha Nikhil |
| Jalna | BJP | Danve Raosaheb Dadarao |
| Aurangabad | AIMIM | Imtiaz Jaleel Syed |
| Raigad | NCP | Tatkare Sunil Dattatray |
| Pune | BJP | Girish Bhalchandra Bapat |
| Baramati | NCP | Supriya Sule |
| Ahmednagar | BJP | DR. Sujay Radhakrishna Vikhe Patil |
| Madha | BJP | Ranjeet Sinha Hindurao Naik-Nimbalkar |
| Sangli | BJP | Sanjaykaka Patil |
| Satara | NCP | Shrimant Chh. Udayanraje Pratapsinhmaharaj Bhonsole |
| Ratnagiri | Shiv Sena | Vinayak Raut  |
| Kolhapur | Shiv Sena | Sanjay Sadashivrao Mandlik |
| Hatkanangle | Shiv Sena | Dhairyasheel Sambhajirao Mane |
| Ramtek | Shiv Sena | Krupal Balaji Tumane |
| Nandurbar | BJP | Dr. Heena Vijaykumar Gavit |
| Dhule | BJP | Bhamre Subhash Ramrao |
| Dindori | BJP | Dr. Bharati Pravin Pawar |
| Nashik (North Maharashtra) | Shiv Sena  | Godse Hemant Tukaram  |
| Palghar | Shiv Sena | Rajendra Dhedya Gavit |
| Bhiwandi | BJP | Kapil Moreshwar Patil |
| Kalyan | Shiv Sena | Dr. Shrikant Eknath Shinde |
| Thane | Shiv Sena | Rajan Baburao vichare |
| Mumbai North | BJP | Gopal Shetty |
| Mumbai North-West | Shiv Sena  | GajananKirtikar |
| Mumbai North-Central | BJP | Poonam Mahajan |
| Mumbai North-East | BJP | Manoj Kotak |
| Mumbai South | Shiv Sena | Arvind Ganpat Sawant |
| Mumbai South-Central | Shiv Sena  | Rahul Ramesh Shewale |
| Maval | Shiv Sena | Shrirang Appa Chandu Barne |
| Shirur | NCP | Amol Ramsing Kolhe |
| Shirdi | Shiv Sena  | Sadashiv Kisan Lokhande |
Goa
| | | |
| --- | --- | --- |
| Constituencies | Political Parties | Winning Candidates |
| North Goa | BJP | Shripad Naik |
| South Goa | INC | Cosme Francisco Caitano Sardinha |
Also Read: Gujarat Lok Sabha Results 2019: Full list of winners
Watch  CM Devendra Fadnavis reacts to BJP's massive victory in Maharashtra